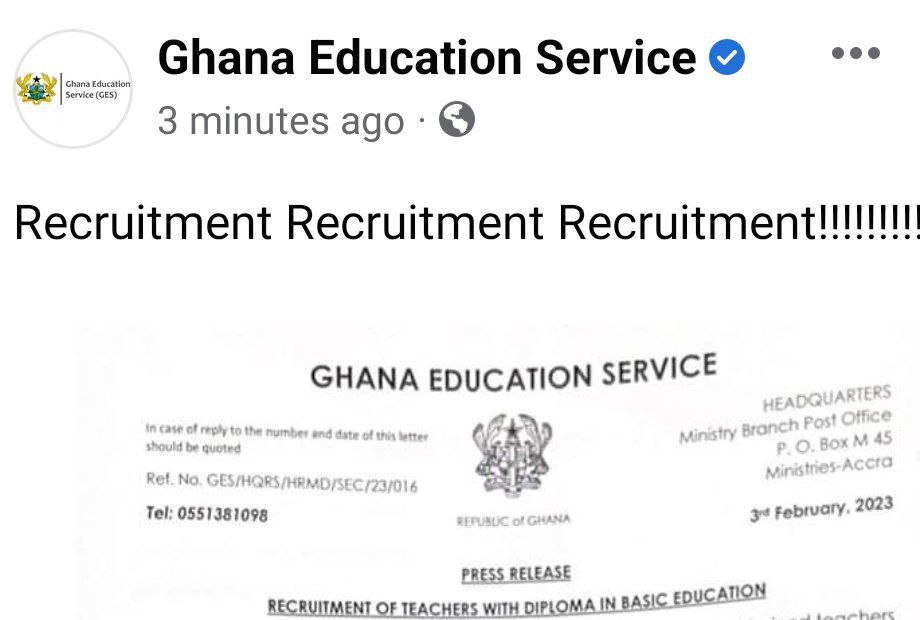 You may not believe but this is 100% True… As it is announced on the Ghana Education Service Official site.
Update
Portal is now ACTIVE
For Diploma in Basic
Education only
ENTER INDEX NUMBER – SUBMIT TO GET ACESS TO FORMS TO FILL. DO NOT BUY ANY EVOUCHER
RECRUITMENT PORTAL FULLY ACTIVE NOW. USE THE LINK
1. ENTER INDEX NUMBER.
2. SUBMIT AND CONFIRM ( ANY INDEX NUMBER CAN ACESS THE FORMS )
3. Online Recruitment Form – Diploma in Basic Education
3. Enter Personal Records
4. Education and Certificate
5. Choose Region of Choice
When will GES Recruit all the UCC, UEW, UG, AAMUSTED B.Ed ( Education) Graduates
If you're unable to Apply for the Recruitment Announced by the Ghana Education Service this is the reason.
"We had a slight challenge with our recruitment portal. The technical team is working hard to resolve it. Kindly bear with us.
We sincerely apologize for the inconvenience caused."
Usually when the Recruitment is announced it take some time before the GES Application Portal becomes Active.
Kindly Try again.
Read How to Apply below to check what you need to select on the portal.
Index numbers, Regional centres and dates for 2023 Teacher Promotion Aptitude Test
YOU CAN JOIN OUR   TELEGRAM  OR WHATSAPP OR FACEBOOK  PAGES
NTC CPD Points Backlogs / No CPD Points After Courses and Professional Standing Statements
Mutual Funds New Code and Applications
Official MOE/GES 2023 Academic Calendar after the Consultative Meeting with Stakeholders;
The Ghana education service is requesting applications from qualified train teachers who have diploma in basic education certificate to be considered for employment
Purpose
To facilitate learning using 21st century technology
Continuously improve learner's ability to research using new technologies
Teach highly motivated learners cater for learners with different learning abilities and help them achieve excellent academic results
Attend relevant and continuous professional development sections
Use a variety of assessment tools and tasks to accurately assess levels of competency
Any other responsibility that would be assigned to you by your head of institution
Applicants who wish to apply should meet the following criteria
Must have completed diploma in basic education program and has no outstanding examination or referrals
Must have completed the mandatory national service
Must have passed the national teacher licensure examination
Must be ready to work wherever his or her services would be needed
If you are a qualified and passionate teacher looking for an opportunity to train the Ghanaian child to contribute to National building in the future access the genius official website
www.gespromotions.gov.gh from 10th February 2023 to 24th February 2023.
Notes only application forms assessed on the website would be accepted
Signed by Angela Frimponmaa Nkansah (MS)
How to Apply
Click on the official Link to the GES site  www.gespromotions.gov.gh
The interface shows
eVoucher Card
Pay for your eVouchers Code Online
Click to Buy
Postings
Check postings for Staff Returning from Study Leave
Click to Check
Apply for Postings
As a Staff Returning from Study Leave
Click to Apply
Promotion Exams
Click here to check your promotions exam result online
Click to Check
Apply for Promotion
Apply for your promotion online
Click to Apply
Non-Teaching Promotion Exams
Click here to check your promotions result
Click to Check
CoE Postings
Check postings for CoE
What you should be looking for is this 
Apply for Postings 
As a Newly Trained
Diploma Teacher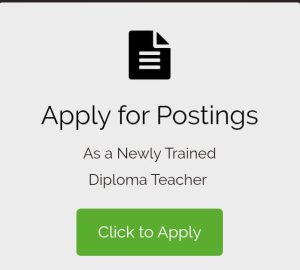 But this is currently not available. Keep checking the portal for the Update.  Hopefully the issue will be resolved soon
Do not
From the questions majority of you are asking us, it seems you may be buying eVoucher card to check Postings of CoE, that is not what you are to click on.
More updates will be given in our various Groups and Channels
Provide your Details
Submit. You must get your documents in  pdf Format
Do not Accept Appointment letter from Anyone.
The Letter would be printed from the same site.
Here is samples GES Appointment Letter Sample from Headquarters
GES Regional appointment letter / Introductory letter sample
When will GES Recruit all the UCC, UEW, UG, AAMUSTED B.Ed ( Education) Graduates
NTC- GTLE 2023 Update ; The Council Has developed 65 subjects reform for 2023
Finalized Academic Calendar for Schools will be release Soon( Possibly this ) GES/MOE
Critical Support allowance and Retention Premium What you need to Know
SHS Placement for 2023/24 Academic Year and Matters Arising -MOE/GES
Revised How to become a SISO ( Circuit Supervisor) in GES; Remunerations and Duties
Gov't 30% and the Request for 2023 COLA for Public Sector Workers
GNAT prepares about 500 teachers for promotion
Teacher Portfolio Grading Report -Download and Enter 2023 documents
YOU CAN JOIN OUR   TELEGRAM  OR WHATSAPP OR FACEBOOK  PAGES