Have you Done the ICT Course and Have you received your Certificate?
KATon Certificate will be awarded after a successful training program
New Course; Education of Persons With Special Needs for Basic to SHS Teachers – Register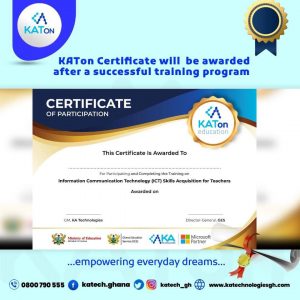 The TM1 laptop comes with features you are to access, some teachers may not have their Laptop yet but those who have, these are some of the things you should be doing with it.
How to access and register for GES documents on Your TM1 Laptop How to access KATon
What you are to do with the TM1 Laptop
Available Resources on the TM1 Laptop and how to access it
How to Download the Katon App on your TM1 Laptop
KAton is a section created by the KA-Technologies to provide resources for Teachers in collaboration with GES, NaCCA and other Educational stakeholders.
GENRE THAT CAN BE FOUND ON THE KATON
Article
Curriculum
Drama
Educational
Framework
Learning Video
Manual
Novel
Poetry
Presentations
Resource Pack
Text Books
HOW TO ACCESS THE KATON
You need to create an account on your TM1 KAtop network
Create account
Already have an account? Sign in
Select Login type
Full Name
Email
Select Country code
Password
Address
Country
Region
Two verification codes will be sent to you.
A verification code will be sent to your email; open the email and enter the code
OTP: six digits.
Enter the code into the registration area
From katon@katchnologiesgh.com
Another code will be sent to your phone number, enter that one too
Katon Verification code
If the codes are entered correctly, you will be sent to the login page to login.
Some of the resources available includes
Social studies curriculum
PHE Curriculum
Science curriculum
Leaners resource packs
Teachers resource packs.
Ma Yensua Asante Twi – Teacher's Guide 6
Ma Yensua Asante Twi – Teacher's Guide 1
Core English – Summary 3
Core English – Summary 2
and Many more
COURSES AVAILABLE TO BE TAKEN
There are also courses to be taken
Information Communication Technology (ICT) Skills Acquisition For Teachers
An integral component of KATon value offering to education is training.
At the very base of this is training in computer proficiency.
Basic Computer skills is increasingly important in our schools, homes and literally everywhere today.
Technology devices such as TM1 laptop is simply an enabler, the value derived from it will largely depend on the skills and knowledge level of the user.
Hence this training is structured for all teachers under Ghana Education Service as a special initiative of the Ministry of Education.
This training program is aimed at helping every teacher develop baseline computer skills and stay on top of evolving skills needed for use of computer, KATon and Microsoft Office applications.
Teachers can rely on their computers for a variety of tasks: sending emails, basic calculations, online learning, teaching, collaboration, conceptualization, programming and communication.
The video, materials and facilitators provides great resources to acquire basic skills to meaningfully use and navigate a variety of software including Microsoft Office.
Our goal is to ensure you beginning to operating at your peak efficiency by empowering everyday dreams.
Goodwill Message From DG, GES
Computer Basics
• Introduction To Computers
• 2. Definition Of Computer
• 3. Components Of A Computer
• 4. Computer Types
• 5. Operating Systems
• 6. Input, Output And Storage Devices
• 7. Peripheral Devices
• 8. Microsoft Windows
• 9. Find, Save And Print Documents
• 10. Create Directories/Folders
• 11. Save Files In Directories
• 12. Move And Copy Files
• 13. Rename Files
• 14. Search For A File
• 15. Using The Task Bar
• 16. Scan Files For Virus
• 17. Copy/Cut And Paste Between Applications
• 18. Create A Shortcut On The Desktop
• 19. Backup Files To External Drives
• 20. Start And Shutdown Of PC Properly.
Word Processing (MS Word)
• Getting Started With MS Word
• 2. Touring The New Office 2016 Interface
• 3. Formatting Basic Text
• 4. Applying Formatting To A Paragraph
• 5. Creating Bulleted And Numbered Lists
• 6. Working With Styles
• 7. Using Templates
• 8. Saving And Removing Formatting
• 9. Changing Style Sets
• 10. Proofing Your Work
• 11. Refining Word Documents
• 12. Formatting Word Document
• 13. Page Numbering, Headers And Footers
• 14. Inserting Graphical Elements (Clip Art, Smart Art, Watermarks)
• 15. Tables (Designing, Formatting Tables)
• 16. Footnotes And Endnotes
• 17. Protecting Documents (Track Changes, Passwords)
• 18. Creating A Cover Page With Themes
• 19. Printing Documents
• 20. Saving A Document
• 21. Outputting To PDF
Presentation (MS POWER POINT)
• . Touring The PowerPoint Interface
• 2. Creating A Slide Design
• 3. Formatting Text
• 4. Changing The Slide Layout
• 5. Customizing Slides
• 6. Adding Additional Slides
• 7. Inserting Objects (Images, SmartArt, WordArt)
• 8. Creating And Formatting Charts
• 9. Changing Chart Types
• 10. Applying Themes
• 11. Setting Up And Running A Slide Show
• 12. Outputting A Presentation
• 13. Slide Handouts And Notes Master
• 14. Printing Slides
Spreadsheet (MS Excel)
• Excel Basics
• 2. Inserting, Moving & Selecting Content
• 3. Inserting And Deleting Rows And Columns
• 4. Formatting Numerical Data And Reference
• 5. Building A Table And Using AutoFill
• 6. Introducing Formulas & Functions
• 7. Using Statistical Functions And The Status Bar
• 8. Exploring Absolute Cell Referencing
• 9. Naming Cell Ranges And Using Name Manager
• 10. Pasting Data And Using The Clipboard
• 11. Formatting And Stylizing In Excel
• 12. Formatting Cells
• 13. Using Format Painter
• 14. Number Formatting, Conditional Formatting
• 15. Using And Creating Cell Styles
• 16. Using And Creating Table Styles
• 17. Filtering A Table Layout
• 18. Formatting Worksheets With Themes
• 19. Inserting Graphical Elements
• 20. Managing Multiple Worksheets
• 21. Outputting A Document
• 22. Saving A Document
• 23. Creating Charts
• 24. Printing In Excel
Personalising Your Desktop
Personalising Your Desktop, Windows And Folders
Basic Internet Tutorial
• Introduction: Definition And How Does The Internet Work?
• 2. Launching The Explorer
• 3. Load And Save Web Pages
• 4. E-Mails And Creating Free E-Mail Accounts
• 5. Using Your New E-Mail Account
• 6. How To Sign In/ Sign Out Mails
• 7. Read/ Reply To Messages
• 8. Composing /Sending Message
• 9. Connecting With Your Friends
• 10. Search Engine Basics
• 11. How To Do Research On The Internet
• 12. Add And Remove Search Engine
Synoptic Overview Of Learning Management System (LMS)
• Definition Of Learning Management Systems
• 2. Overview And Modules Of LMS
• 3. Benefits Of LMS
• 4. KATon As An LMS Platform
Introduction To KATon (One Stop Knowledge Hub)
• Overview Of KATon
• 2. Mini Feature Walkthrough
Introduction To MS Teams
There are also test to be taken both theory and Objectives.
After completion of Courses, kindly download and fill this attestation and upload back
Information Communication Technology (ICT) Skills Acquisition for Teachers (1)

HOW TO DOWNLOAD THE KATON APP ONTO YOUR TM1 COMPUTER
YOU CAN DOWNLOAD THE KATON APP ONTO YOUR TM1 LAPTOP.
After Login the download Katon DESKTOP APP is at the top right corner, Click to download.