News
Airport security officer interdicted; salary reduced for searching National Security Minister
A security officer at the Ghana Airports Company Limited (GACL) has been interdicted for conducting a pre-boarding search on the National Security Minister.
In a letter dated September 8, GACL explained that Awudu Basit's search of Albert Kan-Dapaah at the VVIP Lounge at the Kumasi Airport was embarrassing.
The letter signed by the Company's officer in charge of human capital and officer service, R. S. Tagoe also noted that the search created a "negative impression" for it.
"In view of the negative impression it cast on the company's image and integrity, Management has decided to thoroughly investigate the circumstances leading to this incident," it added.
As a punitive measure, the GACL advised that Mr Basit "will be paid two-thirds of his salary during the period of interdiction."
Aviation security officer interdicted; salary reduced for pre-boarding search of National Security MinisterThe Ghana Airport Company's letter of interdiction of Mr Awudu Basit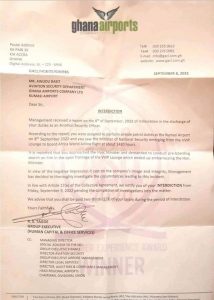 See Also GPRTU increases Transport Fare by 30% Effective September