The controller and Accountant General's Department has started upgrading its online E-payslip portal system to address some challenges users face using the platform.
Validation of salary is done by the validation officers or the head of the school.
If you are not validated for more than three times your salary is blocked from coming.
Validation is done around 15th of every month, sometimes it delays a bit.
The system Upgrade and what it entails
These upgrades has brought some few more challenges to users which includes
Unable to Login,
Seeing of old images, which has been changed already,
Wrong date of birth of users
Changes in the affordability of the users
New passwords used are unable to access the portal but old passwords being able to open the portal.
Most of the newly registered members of the platform are unable to even login. etc
Few of these issues are resolved  but there are others that must be attended to.
Teachers are very anxious about this month November Validation so as to confirm whether,
Their Professional Development Allowances are paid,
There has been a deduction in their salaries due to the One Teacher one Laptop initiative.
For the newbies, to confirm their salaries are fully paid as they cannot access their portal.
Validation of workers
According to CAGD all these issues will be resolved latest by 24th of November, 2021.
The validation  is in and seekersnewsgh.com has seen a video which contains the validation details with
Ghc 867.61 Deducted
Amount Ghc 1127.61
Also Ghc 1631.85
And Ghc 1824.24 Deducted.
The deductions made were base on the various ranks and Grades. This could be base on individual employers or might be general, wait for your salary to confirm or see your validation Officers.
Many has seen the deductions as a surprise and are seeking for explanations from their validation officers.
What can you deduce from this?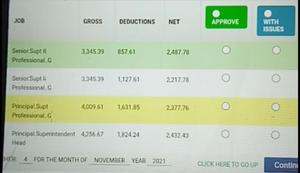 NTC Teacher License Fee of Ghc 100.oo deducted
Income tax increased by Ghc 200.00
Teacher laptop Deduction Ghc 509.55
Some concerns raised by users
Users of the platform that are able to login claim the new interface is not user friendly.
Some are also unable to see certain features they deem essential.
Example is the change of contact form that is missing.
Speaking to one user of the platform, to him; the change of contact is very essential because anything can happen and one will need to change the contact used on the platform.
With todays' linking of the Ghana card with the sim cards, its also important to be  allowed to change the contacts in case one is  unable to registered that particular sim on the platform.`
What not to do
Do not reset your password, since the system is still being upgraded, resetting your password would mean generation of new code for you which might not come due to the upgrading.
Most CAGD officers has advised users to stay calm as the portal is being worked on.
Source: seekersnewsgh.com