"Dr. Eric Nkansah Confirmed as Director-General of Ghana Education Service
Ghana Education Service Announces Confirmation of Dr. Eric Nkansah as Director-General
The Ghana Education Service (GES) is pleased to announce the confirmation of Dr. Eric Nkansah as the Director-General of the Service. Dr. Nkansah has served as the Ag. Director-General and has now officially been given the position on a permanent basis.
In a letter to all Regional Directors of Education, the Ag. Director of the Human Resource Management Division, Angela Frimpomaa Nkansah, stated that all correspondents and memoranda should be addressed to Dr. Nkansah as the Director-General. The letter also congratulated Dr. Nkansah on his appointment and thanked him for his dedication and hard work in the Service.
The confirmation of Dr. Nkansah as the Director-General is a testament to his leadership skills and his commitment to improving the education system in Ghana. The GES looks forward to continuing to work with him as he takes on this important role.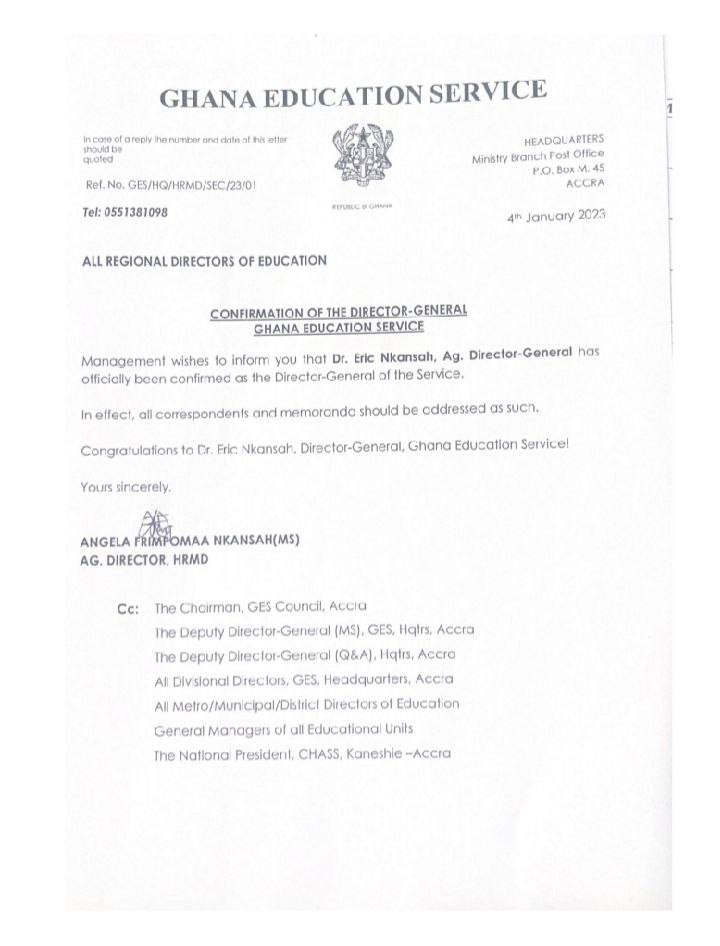 Credit ITN
2023 Proposed dates for Validation, Salary Payment to Public sector workers and COLA
NEW ; GES 2023 Academic Calendar For Schools
Brief Bio of the Newly Appointed Director General of the GES Dr. Eric Nkansah
New Director General to help with Promotion and Financing issues- Dr. Adutwum
Study Abroad ( Australia ) Education Fair ; Free Registration
As a result of the Appointment Dr. Eric Nkansah 
Teacher unions call off strike after court order
GES Press Release on Teachers Strike
Child Right Sues Teacher Unions at Supreme Court Over illegal Strike
Confirmed We are on Strike starting from today- Teachers on Strike