NTC COURSE FOR 16 CPD POINTS
We have seen majority of you are unable to take the course online, even the one with the 16 CPD Points.
Let me try my best to Guide you to take the course now. NTC is wrapping up on the course. One thing you must know is, your points and certificate may delay but your points and certificate is assured.  You have up to 30th May,2022 to finish. We are going to talk about the Main portal and the e-learning portal.
You must have an account on the main portal which is  TEACHER PORTAL GHANA (TPG)  https://tpg.ntc.gov.gh/teacher/u/0/home
if you are new READ THIS tpg-teacher-guide

The  ONLINE LEARNING PORTAL -E-learning portal is https://elearning.ntc.gov.gh/
There are other ones like the https://ntc.colvee.org; and https://upskill.instill.education ). For this one they are just accredited service providers.
Now lets go straight to the point of doing the course. You need to create an account on the e-learning portal
CLICK TO LEARN HOW TO CREATE ACCOUNT
CLICK TO CHECK PERCENTAGE NEEDED TO GET POINTS/ CERTIFICATE AND HOW TO MAKE THE EMAILS THE SAME
HOW TO CREATE AN ACCOUNT ON E-LEARNING PORTAL
visit the website. https://elearning.ntc.gov.gh/
CLICK FOR DETAILS AND HOW TO REGISTER
HOW DO I ACCESS THE COURSE ON MY PHONE 
After Login,  Click on the right top corner menu
Select courses
Scroll down and select expand
Check the image below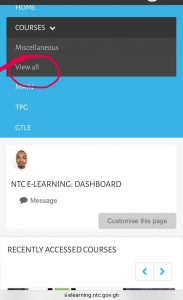 READ AS FAST AS POSSIBLE. YOU HAVE UPTO 30TH TO FINISH. YOU CAN JOIN OUR FORUM BELOW THE PAGE FOR ASSISTANCE.
NEW COURSE FOR 15 CPD POINTS
An exceptionally new National Teaching Council (NTC) Online Course for 15 CPD Points for educators in a bid to gather Continuous Professional Development Points. This NTC Online Course is joined forces by Ministry of Education (MOE), National Teaching Council (NTC), Ghana Education Service (G.E.S) and UNICEF.
This NTC Online Course is named DIFFERENTIATED LEARNING, click here to enlist for the course now
This course is a 2-week course which targets instructors in the elementary schools (BS1 to BS 6), Head educators and School Improvement Support Officers (SISOs). It gives methodologies to further developing students' learning fulfillments, especially, in Mathematics and English. The course which centers around Differentiated Learning, its importance and application in instructing and learning is organized into six (6) illustrations through the cooperative exertion of the Ghana Education Service and the National Teaching Council with upholds from UNICEF and IPA. Educators are expected to spend limit of one hour daily on every one of the six (6) examples.
NTC Course for 15 CPD points, How to register to get the CPD points, The course is free but its limited registration only.
If you are unable to login, it is because you do not have an existing account with colvee thus ntc.colvee.org 
The limited People who can actually take part in the Digital lesson are only those  with the existing account, primary, JHS, SHS, Head Teachers and SISOs can take the course but the credit value is for only Primary Teachers, SISOs and Head Teachers. Messages we have received so far indicates some have been able to Login Successfully, But majority are unable to login because they have account with  https://elearning.ntc.gov.gh/  but not the ntc.colvee.org.
We are pleading with the Authorities to open it up for new users.