The following list were sent to Some platforms for new teachers who have issues with their details to be resolved before releasing the Final Batch of Staff IDs are released Confirmed: GES Releases Staff IDS Third batch 3rd for Newly Trained Teachers.
Is the List authentic? well, mostly when you have issues with your staff IDs, The GES regional Office or District Office calls for rectification.
These documents might mean the list is large and were released to certain group to check their names.
GES will not publish such names, Seekersnewsgh.com is also publishing the names so that it will reach our audience that are new teachers and awaiting their staff IDs.
Those who found their names in the list in our various platforms said they have been to the office to resolve the error.
FOR THE BEST AND VERIFIED TEACHER UPDATE; JOIN OUR GROUP TEACHER PROFESSIONAL DEVELOPMENT
If your name is not in the list, possibly you have no issues or you will be called by the Office to rectify it.
GES Staff IDs- No productivity From Teachers for Not paying them 7 months- Minister of Education
When is GES releasing Third Batch of Staff IDs 2022 and Reasons for the delay has be given
GES is receiving lots of  pressure by various groups to release the staff IDs of newly posted Teachers which has delayed over seven (7) Months.
Undue Delay in the Issuance of Staff IDS; – Final Salaries to be paid in September
Please if you find your name, Kindly visit the IPPD coordinator to check if your name is there by mistake or there is an actual error and resolve the issue, your name might be there by mistake.
It has also come to seekersnewsgh.com's attention some of the newly posted Teacher are trying to use backdoor to get their IDS, For your information, Teachers are the most targeted group by scammers and fraudsters.
Your details can be used by someone to teach in a village far away for years and you will be at home.
People will also contract loans in your name because they have your details. It is easy to contract a loan with teachers details, Kindly be careful out there.
Change of Management Unit, Correction of name etc Can be resolved by all GES District and Regional Offices,
If it is an emergency, Get your letter head and all other required documents and Go to the Controllers office (HQ), You will be assisted.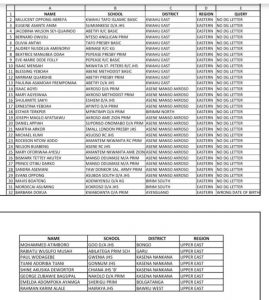 READ ALSO
Health Benefits of Eating Breakfast: The Best And Worst Foods To Eat
2022 WAEC Leaked Questions ( Apor) -disclaimer
Headmaster, administrator busted for promoting exams malpractices; Full list of schools August 2022
Students' loan defaulters to face prosecution in September – Check your Name Here