JUST IN Official MOE/GES 2023 Academic Calendar after the Consultative Meeting with Stakeholders;
Update 7th January 2023,
Official Press Release by the Ghana Education Service on Reopening of Schools.
Ref; GES/PR/RELEASE/85
Reopening of Schools
Management of Ghana Education Service (GES) wishes to inform students, staff, parents and the General Public that due to the Statutory Holiday on Monday, 9th January 2023, 
the Senior High Schools are expected to reopen on Tuesday, 10th January 2023.
Heads of Basic Schools are to note that reopening date to Primary and Junior High Schools remain 10th January, 2023.
Students Staff and the General Public
Previous
A document sighted by seekersnewsgh indicates the 2023 Academic Calendar by the Ghana Education Service.
Seekersnewsgh will share with you the Calendar.
The 2023 Academic year  according to the Calendar starts from 9th January, 2023.
The Ghana Education Service (GES) has not release any official document yet.
Nursery/ KG , Basic 1-9, JHS
 First term 
9th January 2023 to  31st March 2023
 Second  Term 
10th April to 28th June
Third  Term 
10th July to 28th September 2023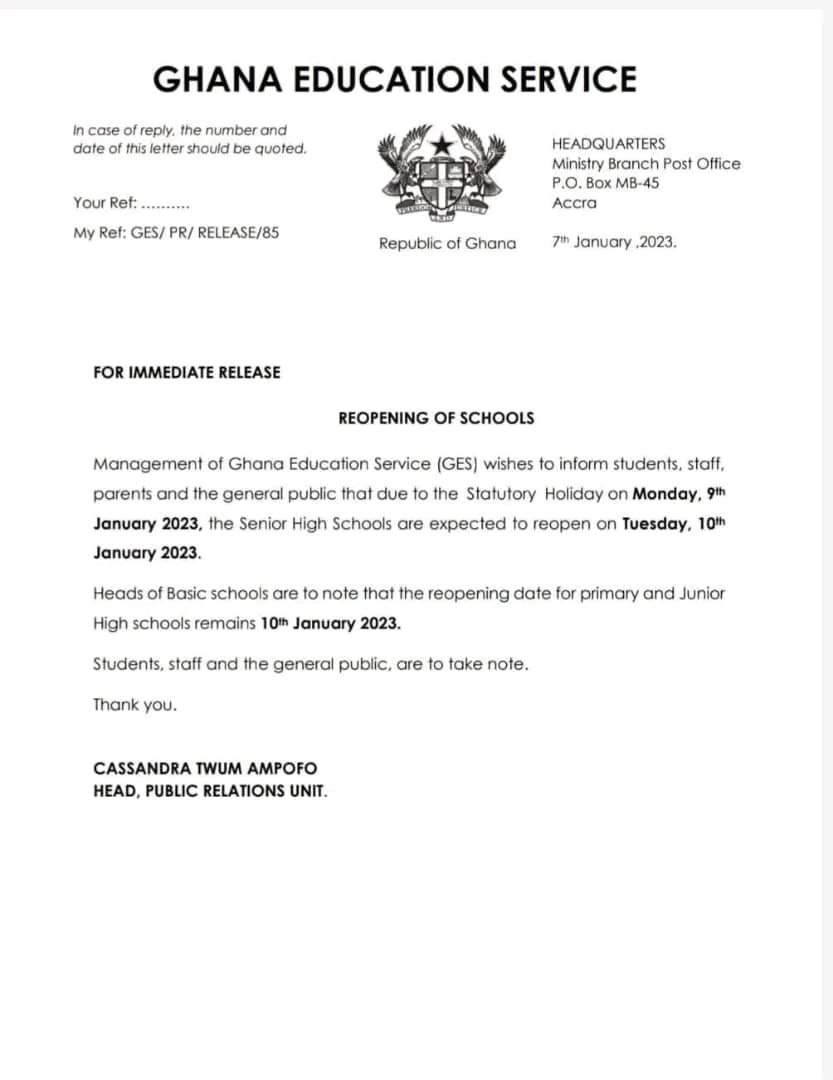 Read also 
NEW
Invitation to Base Pay Negotiations 2023 First meeting ( fate of Workers Salary in this harsh Economic Times )
2023 Proposed dates for Validation, Salary Payment to Public sector workers and COLA
Public Sector workers; Continuation on negotiations on Base pay ; Invitation
Base pay increment for public sector workers 2023
General overview of the National Standardized Test NST
Trained teachers who have written BECE, WASSCE and undergone scrutiny at UCC and UEW cannot write a single sentence
NEW ACADEMIC CALENDAR FOR SCHOOLS
How to read, Click on the image after loading, Click or press the arrow down to scroll through.
If you can not read, you can also press the plus sign to zoom
2023 ACADEMIC CALENDAR V6 final

Other Documents trending
Academic Calender 2023 GES

Check this out
ICT BECE 2022 Questions and Answers
BECE INTEGRATED SCIENCE 2022 QUESTIONS AND ANSWERS B (Pasco)
Integrated Science Lessons SHS
Possible WASSCE Objective Test on Plants Nutrition -Biology
NTC Free CPD Training for all Teachers at the Pre-tertiary level
You can join our Teacher Professional development Platforms for more updates JOIN OUR   TELEGRAM  OR WHATSAPP OR FACEBOOK  PAGES -TEACHERS PLATFORM 
YEA increases CPA allowance by 40%, set to recruit 35,700 personnel in 2023