JOIN TEACHER PROFESSIONAL DEVELOPMENT 
The long awaited Good news is here, GES has just released the staff IDs of the newly recruited Teachers. Mostly this documents are released in batches. In case you do not find your name, Kindly wait for the next batch.
Below are the list, check your name and ID. Also check the list of items to use for the biometrics.  seekersnewsgh.com have to make series of confirmations to authenticate the documents.
This documents are obtained from our social media handles.
We will advice you to cross check the spelling of your names and the staff IDs again when you visit the GES District or Metro Offices for your Introductory letters, to be sure your name and number is correct.
Protect your IDs, Do not share your IDs with your phone numbers on social media to proof you have seen yours.
After checking your IDs, copy them down, Prepare to do the Biometrics by going for Introductory letter from the District / Metro Office of Education(GES Introductory Letter sample for Biometrics) , After the Biometrics see your validator in the school to create an Online epayslip Account for you from Controller (HOW TO REGISTER ON CONTROLLER PAYSLIP PORTAL).
In the event of creating your Online Epayslip Account, never use someone's number, not a brother, a sister, a friend, parents or a sweetheart.
You may regret it when its too late. Do not also share your password with them. Controller will never call you to send or mention your password for any reason.
Protect your Portal. When filling forms or you use an internet café, do not give them the password, type it in yourself or change immediately you are done.
Below are the list of items you need to send for the Biometric exercise.
GES BIOMETRIC REGISTRATION FOR MAY, 2022
VENUE: GNAT HEADQUARTERS-ACCRA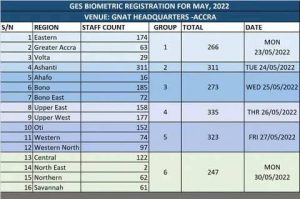 JOIN TEACHER PROFESSIONAL DEVELOPMENT 
TUCEE – NTC Programme For all Teachers; 4 CPD Points
All You Need to Know about NTC Courses and the Ones to take; How to Register Each Course
Course For 4 CPD For Private and Public School Teachers-UCC
REGIONAL STAFF IDS 2 JUNE 2022
Kindly Note that the information is 100% Accurate, we have other list but trying to authenticate before. The available ones are in Green.
ALL NEW ONES ARE UPLOADED  ON THE BELOW PAGE CLICK
2022-STAFF-ID-2-savana SEEKERS

Confirm GES releases Second ( 2nd) batch of Staff IDs of Newly Posted Teachers Updated
CLICK HERE FOR ALL Confirm GES releases Second ( 2nd) batch of Staff IDs of Newly Posted Teachers Updated
"Chew, pour, pass, and forget" phenomenon to be eliminated in Ghana's education
EXCLUSIVE MTN Data Bundle Offer For Teachers -10GB- GNAT; Deadline
JOIN US FOR QUICK UPDATES: In case any of the information changes we will quickly update this post and alert you especially through our Forums below.
JOIN TEACHER PROFESSIONAL DEVELOPMENT