Index numbers, Regional centres and dates for 2023 Teacher Promotion Aptitude Test
Quick Updates; Some have been sent sms their index numbers and Examination centres. You must go with your National ID. Anyone with issues must visit the Metro/District Education office for Assistance. Read more and go through the list below
YOU CAN JOIN OUR   TELEGRAM  OR WHATSAPP OR FACEBOOK  PAGES
NTC CPD Points Backlogs / No CPD Points After Courses and Professional Standing Statements
Official MOE/GES 2023 Academic Calendar after the Consultative Meeting with Stakeholders;
When will GES Recruit all the UCC, UEW, UG, AAMUSTED  etc. B.Ed ( Education) Graduates who have written the GTLE and their license will Expire soon For Renewal
Teachers are to sit for the 2023 GES Aptitude Test for promotions.
Some Ranks have only Aptitude test to write,
Some others would have to write the Test and also go for interview.
The 2023 Aptitude Test date and how to obtain index numbers for shortlisted Applicants are in the release by the Ghana Education Service (GES).
The Letter Reads
The management of Ghana Education Service wishes to inform all staff due for promotion that the shortlist for applicants eligible to write the aptitude test for promotions ranks; Principal superintendent, Assistant Director II, Assistant Director I and Deputy Director has been completed.
The proposed date for the aptitude test will be 28 February and 1st march 2023 simultaneously in all regions.
Index numbers, Regional centres and other vital information will be communicated through the Regional directorates to all short listed candidates.
As we try to bring you more information on the index numbers and the centres for the Test; be reminded that you can be sent SMS, Kindly keep monitoring your phone for any updates.
Below we provide you with the list of Candidates and their index numbers…
CHANGE IN DATE - AKATSI CoE

GES PROMOTION PORTAL AND HOW TO APPLY OR CHECK
Join our Telegram page for the List of index numbers….
Most of these list can also be obtained from your District Office.
Updating the List
Volta Region
Central Region
Greater Accra
Bono Region
Bulk SMS is being sent to Prospective Candidates with their Index numbers and Examination Centres. Kindly Monitor the Phone you used in registering.
If For some Reasons you did not receive yours we have some here and we're adding more.
AKASTI COE_ADI

Attendance sheet ST. TERSA'S COE_ADII
Attendance sheet ST. TERSA'S COE_PS
Attendance sheet ST. TERSA'S COE_DD
Attendance sheet ST. TERSA'S COE_ADI
Proomotion DD Index Numbers updated
Central Region . Download from the Group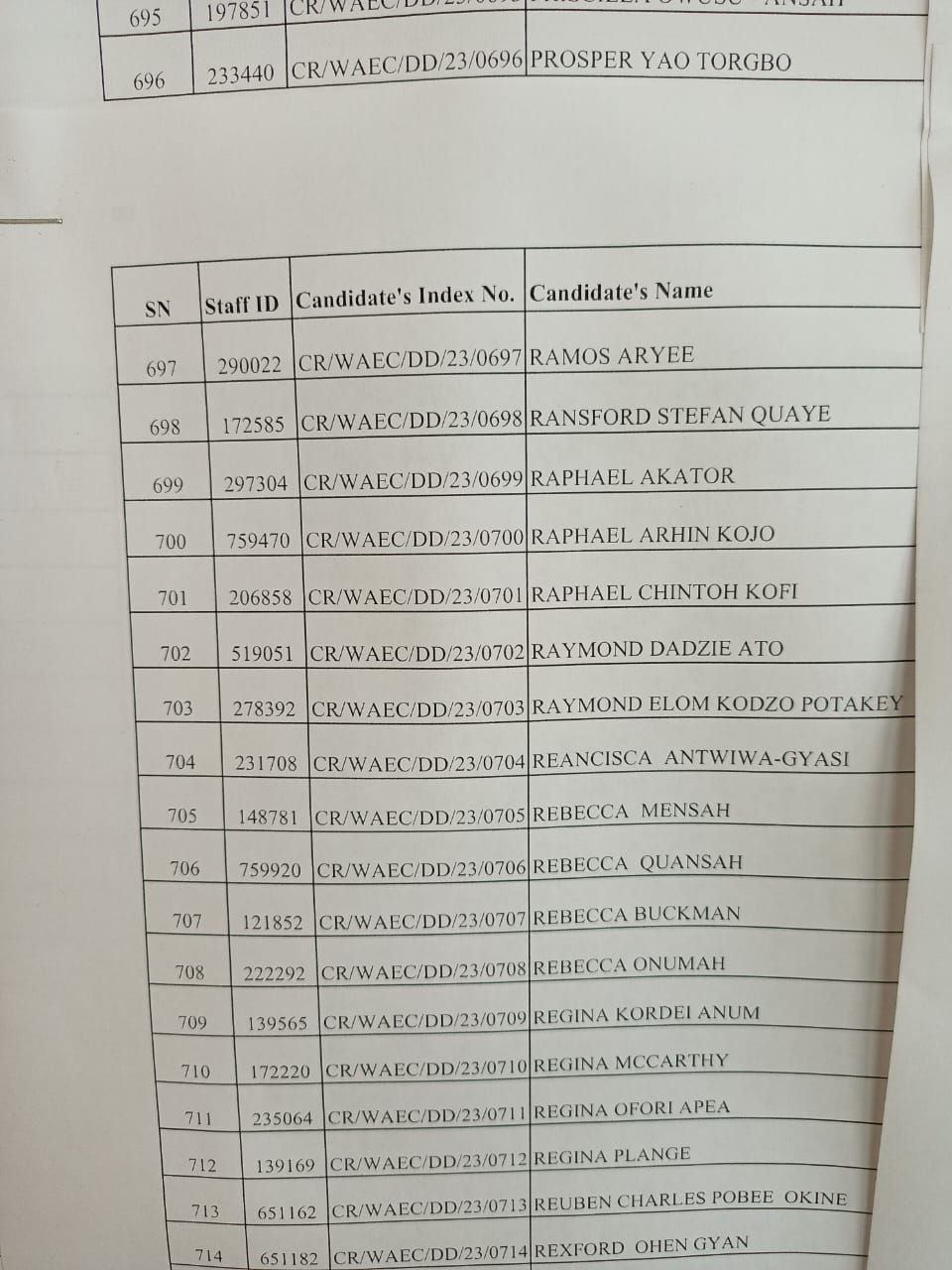 ANMTC ADI

GBEWAACOE_ADI (1)

GBEWAACOE_ADII

GBEWAACOE_DD

GBEWAACOE_PS

Methodist
METHODIST COE_ADI

METHODIST COE_ADII

METHODIST COE_DD

METHODIST COE_PS

more………Updating from time to time 
JOIN FOR PICTURES OF OTHERS 
More updates soon with the list
Matters arising from Promotion Examination, All Centres, Wrong Phone numbers, No Index etc
All those teachers who applied for the upcoming promotions but have not yet received their Index numbers / Centres are to open the link and fill the form.
Thanks
https://forms.gle/GgkPNry3xT53zuMs6
Read also
Critical Support allowance and Retention Premium What you need to Know
SHS Placement for 2023/24 Academic Year and Matters Arising -MOE/GES
Revised How to become a SISO ( Circuit Supervisor) in GES; Remunerations and Duties
Gov't 30% and the Request for 2023 COLA for Public Sector Workers
GNAT prepares about 500 teachers for promotion
Teacher Portfolio Grading Report -Download and Enter 2023 documents
YOU CAN JOIN OUR   TELEGRAM  OR WHATSAPP OR FACEBOOK  PAGES
NTC CPD Points Backlogs / No CPD Points After Courses and Professional Standing Statements