News
NCA to block outgoing calls and data services of unregistered SIMs effective Monday
The National Communications Authority (NCA) will roll out punitive actions against those who have not registered their SIM cards from Monday, September 5, 2022.
Exams Malpractice and Impersonation in the Ongoing WASSCE- New Measures taken to continue the papers
In a press release, the NCA said all unregistered SIM cards will be barred from receiving certain services, including all outgoing voice calls and data services.
For those who will still not register their SIMs after September, their numbers will be blocked.
The SIM cards registration deadline was moved to September 30 after many Ghanaians failed to meet the initial deadline.
Following an extensive meeting with telcos, the NCA has outlined some punitive measures against individuals who fail to register their SIMs.
Gov't releases SIM Card registration Self-Service App – Download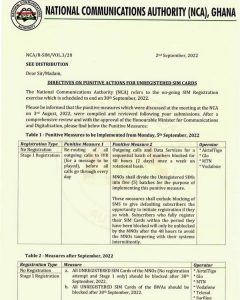 Recommended
How to replace lost or Missing / Damaged Ghana Card anywhere in the Country
Gov't releases SIM Card registration Self-Service App – Download
Following Sim to be Barred; You will now pay this amount to Register your SIM on an App
The Following Ghana Card Registration and Update will be Ghc 30;All Supporting documents needed