Health
Public Alert: Recall of Mineral Water from the Market-Details
Scale of fees of Lawyers 2022/2023; How to Pay Less When you Contract an Attorney in Ghana
The management of Twellium Industrial Company Limited, producers of Verna Mineral Water, has recalled all Verna Mineral Water produced between April 2022 to June 2022 from the market.
According to the notice by the manufacturers of Verna water, the company wish to inform the general republic of an ongoing recall of venrna mineral water produced between April 2002 and June 22 days period and have the best before date in April 2023, May 2023 and June 2023.
The notice also states that the affected batch have information beginning with TW/4 or TW/5.
The management of Verna Mineral water however, want the general public to note that the products with matching number information beginning with TWKU are not affected.
The general public are to return the affected products to the factory, to a distributor or retailer nearby. They also want the public to be rest assured that the exercise is to ensure that their customers are constantly supplied with quality at all times.
They also apologize for any inconveniences that it may cost.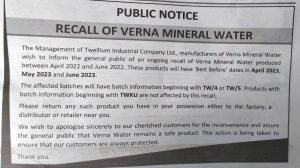 The Following Ghana Card Registration and Update will be Ghc 30;All Supporting documents needed
Headmaster, administrator busted for promoting exams malpractices; Full list of schools August 2022