Health
Pull down your False broadcast concerning the alleged wrong prescription of medication- Junior Doctor's to Media Houses
Pull down your False broadcast concerning the alleged wrong prescription of medication- Junior Doctor's to Media Houses.
The Junior Doctors Association has taken some time to investigate the matter between the father of a Medical Doctor and a nurse at the Manhyia District Hospital in the Ashanti Region of Ghana and have this to say,
The attention of Junior Doctor's Association has been drawn to an alleged misunderstanding between a doctor and a nurse at the Manhyia District Hospital, which occurred on Sunday, 27th of November, 2022.
While we do not condone the actions of the father, it is imperative to set the records straight on the falsehood being peddled to bring the professional competence of the doctor into disrepute.
The doctor did not review any child on the surgical ward on the day in question.
No prescription was written for a child by the doctor on the said date and therefore she could not have prescribed a wrong dosage
The doctor correctly prescribed an intravenous fluid for an adult patient on the surgical ward.
The non – availability of the intravenous fluid prescribed prompted the nurse to call the doctor to delete it from the system to avoid extra billing.
The information on social media, radio and TV stations about an alleged wrong prescription is untrue, according to the hospital management records available.
We therefore entreat all media houses to pull down their broadcast concerning the alleged wrong prescription of medication 💊 and entreat the general public to disregard such allegations against the doctor.
Doctors and nurses have always had a peaceful collaboration and we will continue to work as a team to provide quality healthcare to our cherished clients and the people of the Ghana at large
Signed by Dr Louis A Nkrumah (President) and Dr Norbert Kipo (Secretary ).
Here is the Full Audio as a Doctor's father couldn't handle the way the Doctor was treated by a Nurse and had to take matters into his own hands, it's unfortunate, but had to take a big blow for his action.
He has rendered an apology, but that seem not to be enough as Some pushing for him to be fired as the National Service (NSS) Regional Director for Ashanti Region
Brouhala about General Arts Students Becoming Nurses- All the Press Release so Far-Audio
Friday December 2 declared public holiday
Public Sector workers; Continuation on negotiations on Base pay Invitation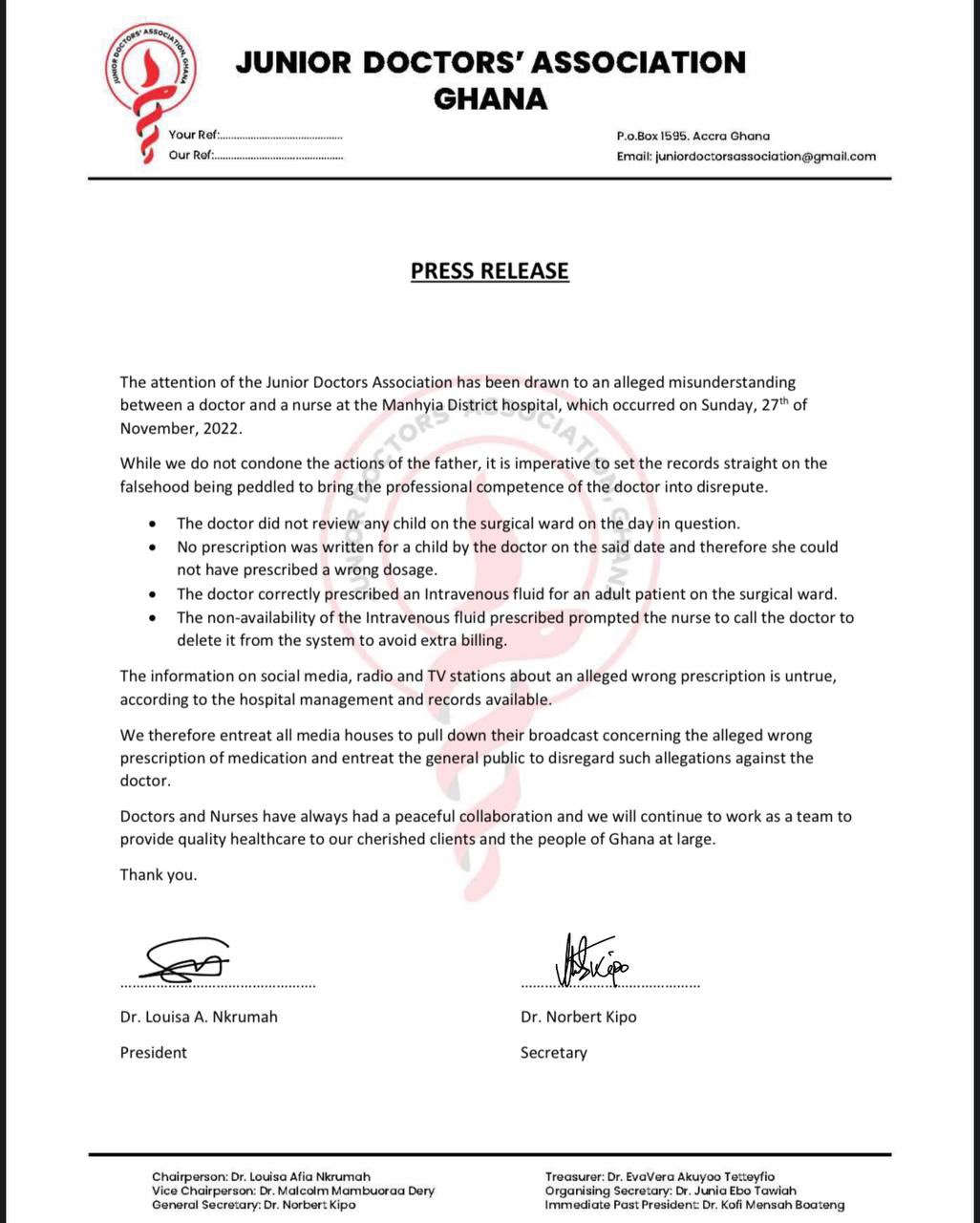 seekersnewsgh.com