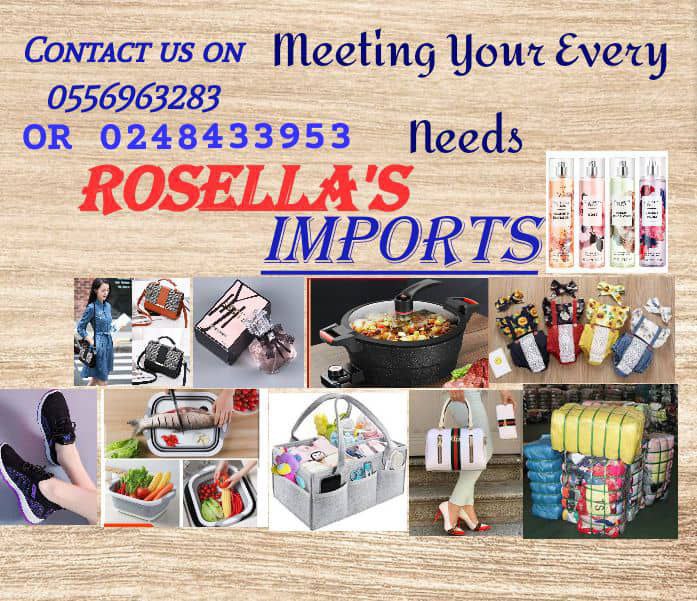 About Rosella's Imports and Pre-Order Hub
Rosella's Imports and Pre-Order Hub is a renowned company in Ghana specializing in importation services. Led by CEO Rosella Dinah Amponsah and Managing Director Djangmah Peter Nubuor, the company has gained a reputation for providing top-notch services to its clients.
As a registered company with the Registrar of Companies in Ghana, Rosella's Imports and Pre-Order Hub ensures compliance with all legal and regulatory requirements. This allows the company to operate with transparency and trustworthiness, providing clients with peace of mind.
One of the key services offered by Rosella's Imports and Pre-Order Hub is importation. The company assists individuals and businesses in bringing goods and products from overseas markets into Ghana. With a deep understanding of import laws and regulations, the company ensures a smooth and hassle-free process for its clients.
Rosella's Imports and Pre-Order Hub also places a strong emphasis on customer satisfaction. The company understands that each client has unique requirements and takes a personalized approach to meet their needs. With a team of dedicated professionals, Rosella's Imports and Pre-Order Hub offers excellent customer service throughout the importation process, providing assistance and guidance every step of the way.
Rosella's Imports and Pre-Order Hub provides pre-order services,
where customers can place orders for products that are not readily available in Ghana. This service allows individuals and businesses to access a wide range of products from international markets, even if they are not physically present in those countries. By leveraging its network of global suppliers, Rosella's Imports and Pre-Order Hub ensures that customers can get their desired products in a timely and efficient manner.
The company's pre-order service goes beyond simply placing orders. Rosella's Imports and Pre-Order Hub takes care of all the logistics, including sourcing the products, handling international shipping, and managing customs clearance. By handling these processes on behalf of its clients, the company aims to alleviate the stress and complexities associated with cross-border transactions.
Rosella's Imports and Pre-Order Hub prides itself on its commitment to quality and reliability. The company only works with trusted suppliers and partners to ensure that the products it imports meet the highest standards. With a stringent quality control process in place, the company ensures that every product meets customer expectations.
How to Make Order
Join our Channel or Call any of the Customer service Representatives.
Line 1; +233 556963283   Line 2;  +233 248433953
*RULES AND REGULATIONS FOR ROSELLA'S IMPORTS AND PRE-ORDER HUB ON WHATSAPP*
1. Minimum Order Quantity (MOQ):
a. All orders placed must meet the specified MOQ stated for each product.
b. Exceptions to the MOQ may be considered on a case-by-case basis, subject to approval by management.
2. Serious Business:
a. We maintain a professional and serious business environment for all our transactions.
b. Product inquiries and orders should be made only if you are genuinely interested in purchasing.
c. Time-wasters and fraudulent activities will not be tolerated, and appropriate action will be taken.
3. Order Placement and Confirmation:
a. Place your order by clearly sending the product picture with amount, quantity, and any other relevant details to the admin.
b. Upon receiving your order, we will provide you with confirmation and details regarding payment.
4. Payment Terms:
a. Payment must be made in full before the order is processed.
b. We accept secure and reliable payment methods such as MTN MOMO or other agreed-upon options.
c. Any transaction fees or charges are the responsibility of the buyer.
6. Shipping and Delivery:
After orders have been closed here, items are purchased, shipped locally to shipping company in China.
After the shipping company forwards the goods purchased and it's takes 35 to 45 working days to ship to Ghana
After the goods arrive at the port one week will be used for clearance of goods and repacking for delivery.
Note
Shipping of Goods does not starts from when you order but rather after goods with stated MOQ are purchased and sent to the shipping agent's warehouse for main shipment ( *China to Ghana)*. Shipping fees will then be distributed on the platform.
Charges including charges from Port ( *harbour* ) will be borne by the buyer unless explicitly stated otherwise by
*ROSELLA'S IMPORTS AND PRE-ORDER HUB*
ITEMS YOU CAN GET FROM US
1. Electronics and gadgets: smartphones, tablets, Bluetooth speakers, smartwatches, headphones, and other consumer electronics.
2. Fashion accessories: clothing, shoes, handbags, wallets, belts, sunglasses, and jewelry.
3. Home and kitchen appliances: kitchen gadgets, home decor items, storage solutions, beauty tools, and home electronics.
4. Toys and games: educational toys, remote control cars, puzzles, board games, and action figures.
5. Health and beauty products: skincare and cosmetics, personal care items, hair care tools, and fitness accessories.
6. Jewelry and accessories: costume jewelry, watches, bags, wallets, keychains, and fashion accessories.
7. Pet supplies: pet toys, pet clothing, pet accessories, pet grooming tools, and pet products.
8. Sports and outdoor equipment: fitness equipment, camping gear, hiking accessories, bike accessories, and sports clothing.
9. Automotive accessories and parts: car accessories, car electronics, car care products, and motorcycle parts.
And More
JOIN US ON FACEBOOK, TELEGRAM AND WHATSAPP. 
PROJECTIONS
We envision Rosella's Import and Pre-order Hub to emerge as the leading importation group in Ghana and beyond, bridging the gap between overseas products and local customers. Our primary aim is to establish ourselves as the most dependable and trusted source for imports.
Furthermore, we are committed to ensuring that our customers receive exceptional value for their money as they purchase products through our platform.
Customer Service
Line 1; +233 556963283   Line 2;  +233 248433953
Location; Tema, Accra, Cape Coast and Kumasi