Accra to London: Documents, Safety Tips and Routes for the 10,000 KM Adventure
A group of adventurous travelers has embarked on an extraordinary road trip from Accra to London, covering an astonishing distance of 10,000 kilometers. This daring expedition, inspired by the stories of Ghanaian explorers, has captured the imagination of many.
On Sunday, July 23, 2023, the group of twelve people set off on their carefully planned route, which took them through scenic towns and cities, got to London on Sunday, August 6, 2023,
Countries and Towns used
Starting in Accra, they journeyed through Aburi, Nsawam, Kumasi, Sunyani, and Dormaa, before finally crossing into Cote d'Ivoire via Golokrom.
they headed towards Mali, hoping to cross into Senegal.
And from Senegal, they entered Northern Africa through Mauritania and then Morroco.
How did they Cross the Mediterranean Sea?
After a long drive, the Wanderlust team entered Spain through the Tangier to Algeciras ferry point, after which they rested in Valencia.
The group continued their journey through Monaco, Lake Como, Frankfurt, Amsterdam, and finally into France. And from there, they made their way to the United Kingdom.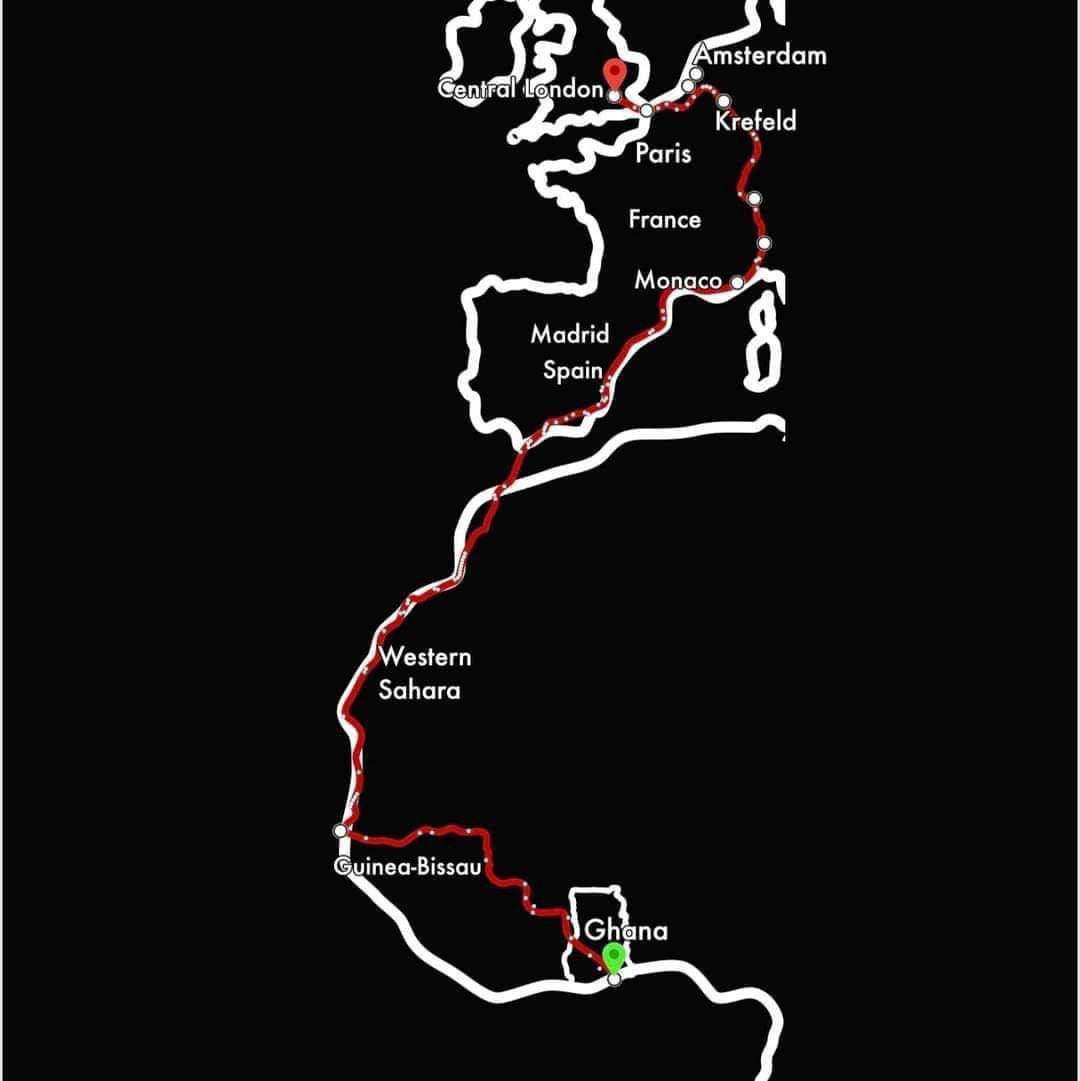 To travel from Accra to London by road, you would need to pass through multiple countries. Here is a list of some major towns and cities along the way
Here are other known routes, towns, and cities
1. Accra
2. Kumasi
3. Tamale
4. Ouagadougou (Burkina Faso)
5. Bobo-Dioulasso
6. Bamako (Mali)
7. Dakar (Senegal)
8. Rufisque
9. St. Louis
10. Nouakchott (Mauritania)
11. Laayoune (Western Sahara)
12. Dakhla
13. El Aaiún
14. Agadir (Morocco)
15. Marrakech
16. Casablanca
17. Rabat
18. Tangier
19. Ceuta (Spanish autonomous city in North Africa)
20. Algeciras (Spain)
21. Gibraltar (British Overseas Territory on the Iberian Peninsula)
22. Seville
23. Madrid
24. Bordeaux (France)
25. Paris
26. Calais
27. Dover
28. London
Please note that this list is not exhaustive, and there might be other towns and cities along the route depending on the specific routes used.
Cars used for Ghana to London Road Trip
The team traveled in five distinct Ghanaian-registered vehicles,
A Mercedez Benz G-Wagon,
two Toyota Landcruisers (V8),
A Lexus RX 350, and
Ford F150 Raptor.
Documents used
They obtained essential documents well in advance, including Ghana cards, Schengen visas, UK visas, Laissez Passe for each border, an ECOWAS brown card for the car, and money for any unforeseen situations.
Safety Tips
1. Plan your route and research travel advisories: Before embarking on your journey, make sure to plan your route and check for any travel advisories for the countries you will be passing through. This will help you stay aware of any potential safety risks or issues in the areas you will be traveling through.
2. Pack an emergency kit: It's important to be prepared for any unexpected situations that may arise on your road trip. Pack an emergency kit that includes items such as a first aid kit, flashlight, extra batteries, water, non-perishable food (Having a stash of non-perishable food items like Gari, Shito, groundnut, sardine, and personal grooming products), a map, and a cellphone charger. These items can be lifesavers if you find yourself in an emergency or breakdown situation.
3. Ensure your vehicles are in good condition: Before your trip, have all the vehicles thoroughly inspected by a qualified mechanic. This will help ensure that they are in good working condition and minimize the risk of breakdowns or technical issues during the journey. Luckily they had a mechanic Travelling with them.
4. Observe traffic rules and regulations: It is crucial to adhere to all traffic rules and regulations while driving through different countries. Familiarize yourself with the specific road laws of each country you will be traveling through and ensure that all drivers in your group are aware of and follow these rules to ensure a safe journey.
5. Stay alert and focused while driving: Long road trips can be tiring, so make sure to take regular breaks and switch drivers to avoid fatigue. It's important to stay focused and alert while driving to prevent accidents. Avoid distractions such as texting or talking on the phone, and always keep your eyes on the road.
6. Be cautious of your surroundings: Pay attention to your surroundings and be aware of any suspicious or potentially dangerous situations. This is especially important when stopping at gas stations, rest areas, or other unfamiliar locations. Park in well-lit areas and lock your vehicles when leaving them unattended.
7. Keep important documents and valuables secure: Store your passports, visas, and other important documents in a secure location, such as a travel wallet worn under your clothing. Additionally, keep valuables out of sight and locked in the vehicles when you are away from them to minimize the risk of theft.
8. Stay connected and communicate: Make sure to have a method of communication, such as a working cellphone or two-way radio, to stay connected with other members of your group. This will be useful in case of any emergencies or if you get separated along the way. Almost all Ghanaian media houses, International News Stations, and Bloggers were following and communicating with them throughout the Journey.
9. Stay informed about local customs and culture: Each country you pass through will have its customs and culture. It is important to familiarize yourself with these customs to show respect and avoid any misunderstandings. This includes being aware of dress codes, greetings, and appropriate behavior in different social settings. The Ghana Embassies were all on High Alert for them.
10. Stay updated on current events: In addition to checking travel advisories, staying informed about current events in the countries you will be traveling through can provide valuable insights into any political unrest or safety concerns. Stay updated and be prepared to alter your route or plans if necessary.
11. Be cautious of scams and potential fraud: Unfortunately, scams and fraud can occur while traveling. Be cautious of strangers offering unsolicited help or deals that seem too good to be true. Keep your personal and financial information safe, and only use trusted and reputable services when needed.
12. Respect local laws and customs: It is important to respect the laws and customs of the countries you are visiting. Ignorance of the law is not an excuse, so familiarize yourself with the local laws and avoid engaging in any illegal activities.
13. Trust your instincts: Above all, trust your instincts and use common sense. If something feels unsafe or uncomfortable, trust your gut and take the necessary precautions. Your safety is the top priority, so don't hesitate to make changes or alter your plans if needed.
14. Don't forget Cash and Local Currency for tips on the road.
Remember, safety should be your top priority when embarking on a road trip from Accra to London. By following these safety tips, planning, and staying alert, you can ensure a smooth and secure journey across multiple countries. Happy travels!
In case you decide to Walk
In Case you decide to walk from Accra to London  Good Luck with that, it will take you months.
Accra to London By Air (Flight)
Traveling by flight from Accra to London takes an average of  6 Hours and 45 minutes.
Accra to London by Road
Accra to London by Road when all things are equal will take you approximately 2 weeks. You may be delayed at border stops and more which will prolong the duration.
Credit to the Wanderlust