News
How world leaders were bused to Queen Elizabeth's funeral- Full View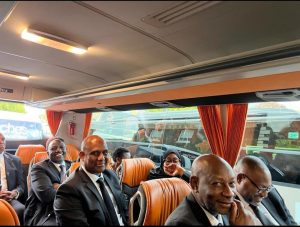 The funeral service for the late Queen Elizabeth II is being held today in the United Kingdom.
The landmark event at the Westminster Abbey in London has seen numerous of leaders from around the world arrive at the invitation of King Charles III.
In an interesting turn, however, all heads of state and royals were billed to appear at the Westminster Abbey via a bus with the exception of the US president, Joe Biden who was driven in his office's official vehicle, 'The Beast'.
Though this move raised some eyebrows, it was followed through.
These leaders are there to commiserate with the British people and pay their last respect to the former head of the Commonwealth.
Read Also How to Start Blogging and Make Money Straight into Your Bank Account
U.S. President Joe Biden and first lady Jill Biden paid their respects at Queen Elizabeth's lying-in-state in London's Westminster Hall https://t.co/eXjzBBGzPd pic.twitter.com/H48DgWkXqJ

— Reuters (@Reuters) September 18, 2022
Ghana 🇬🇭 has arrived at the queens funeral. #QueenElizabethIIMemorial
First lady and Prez Akufo Addo. pic.twitter.com/LAmij52qrP

— Shamima Muslim (@shamimamuslim) September 19, 2022
The busses pulled up, and the world leaders flocked inside Buckingham Palace.

Kings, Queens, Emperors, Sultans, Sheikhs, Presidents, Prime Ministers – they are all here.

Queues, busses and royalty – it is all so very British. pic.twitter.com/raUQNAAcHX

— Charlie Proctor (@MonarchyUK) September 18, 2022