News
Public Alert – INDOMIE INSTANT NOODLES (CHICKEN FLAVOUR)-FDA
The attention of the Food and Drug Authority (FDA)  has been drawn to the recall of Indomie Instant noodles ( Chicken Flavour) products from certain countries dues to suspected prescence of high levels of aflatoxins and pesticides.
NB
"Aflatoxins are a family of toxins produced by certain fungi that are found on agricultural crops such as maize (corn), peanuts, cottonseed, and tree nuts. The main fungi that produce aflatoxins are Aspergillus flavus and Aspergillus parasiticus, which are abundant in warm and humid regions of the world. www.cancer.gov"
"Aflatoxin exposure can cause nausea, vomiting, abdominal pain, convulsions acutely, and its chronic exposure can also lead to various complications like hepatotoxicity, immunotoxicity, and teratogenicity. Aflatoxin is one of the major causes of hepatocellular carcinoma in developing countries"
The FDA wishes to assure the public that the indomie Instant noodles with 'Ladha Ya Kuku" inscription on the label is not registered product in Ghana.
The only Indomie Instant Chicken Noodles products that is registered in Ghana is manufactured locally and occasionally sourced from Nigeria. Both products are taken through a rigorous process including testing regimes for aflatoxins and pesticides residues before market authorizations is given. Meanwhile, periodic post market testing is also conducted.
In light of the recent recalls in other countries, the FDA has picked samples from the manufacturing facility in Ghana as well as different point of sale across regions nationwide for testing at the centre for laboratory Services and Research. Anybody in possession of the unregistered Indomie products should contact the FDA immediately.
The FDA want to assure the public that, the surveillance teams are monitoring the market for any of these unregistered indomie products and will not renege on its mandate to protect public health and safety.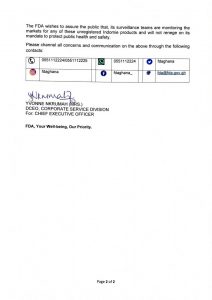 source:  FDA