In a surprising turn of events, students at Suhum-Abessim Basic School in the Eastern Region of Ghana are being required to bring their own tables and chairs before they can gain admission.
This unusual situation has arisen due to the Municipal Education Directorate and the local Assembly's failure to provide desks and other essential learning materials to the school.
The dire circumstances at Suhum-Abessim Basic School recently came to light when Michael Teye Amartey, a correspondent from GBC (Ghana Broadcasting Corporation), visited the school to assess the situation.
Established in 1977, Suhum-Abessim Basic School has been grappling with a severe shortage of learning logistics, severely hampering effective teaching and learning within its walls.
Makrado Nene Evans Nargeh, the Parent-Teacher Association (PTA) Chairman of the school, shed light on the school's struggles. He mentioned that the school began its journey in a humble wooden structure, but in the past four years, an NGO, with support from the Suhum Municipal Assembly, constructed a new building. Despite this, all efforts to secure desks and other essential learning materials from the assembly have proven futile.
Nene Nargeh further explained that it was the parents' collective effort that provided the teachers with plastic chairs and tables. Unfortunately, students whose parents cannot afford to provide them with these basics are left with no choice but to sit on makeshift wooden boards to learn. This dire situation is negatively impacting the school's enrollment, as concerned parents are increasingly opting to send their children to nearby schools with better facilities.
Members of the local community also expressed their deep concern about the ongoing predicament to GBC Sunrise FM.
Appeal
Samuel Larbi, the Headteacher of Suhum-Abessim Basic School, joined the appeal for assistance, urging organizations to step in and provide the school with computers. These computers would play a crucial role in facilitating the practical aspect of Information, Communication, and Technology education in the school.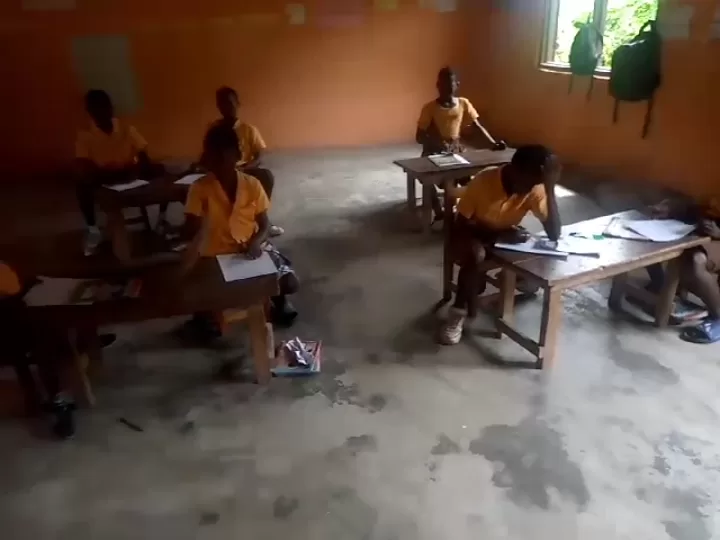 The situation at Suhum-Abessim Basic School serves as a stark reminder of the urgent need for improved educational infrastructure and support in the region. Parents, teachers, and the community at large are hopeful that their plea for assistance will not fall on deaf ears, and that adequate resources will be provided to ensure quality education for the students.
Source;gbcghanaonline.com/news