BECE Graduates Paying 1,034gh Clearance Fee Before School Selection
School selection is ongoing and various basic school graduates are to make their Senior high School Selection now in their various schools.   2022 BECE Candidates School Selection Guideline -Download .
Selections of Schools; Consider the follow before. 
There is currently Free Compulsory Basic School Education yet some school have been reported charging exorbitant fees.
Here, a students of Achimota basic school's file seen in circulation suggest the Child is to pay a whopping sum of Ghc 1, 034.22 before the child is cleared.
Here is what Edu Watch has to say…..
Why is Achimota Basic '2' School charging a JHS 3 student GH 1,034 before clearing them to select their SHS?
How can one owe any form of fees or voluntary PTA dues under a Free Basic Education Policy?
If there are no funds for running basic schools properly, as is the case, why won't school heads or district directors write to the Ministry of Education GH and Ghana Education Service to complain and demand action, just like PRINCOF and CHASS have been doing?
Permission to ask students in college of education to fend for themselves
Should government pay deaf ears, irrespective of the good motive, is still not right for Public Basic School heads to hide behind PTAs to collect compulsory fees for running schools. Parental contributions cannot be obligatory; they are strictly voluntary.
Some parents are genuinely poor, including the one whose ward's bill is posted here. Even without the current obnoxious economy, it's unconscionable for a school head to demand GHC 1,034 from a poor petty trader or in lieu, deny the child an opportunity to select a SHS.
Under a Free Basic Education Policy, it is illegal to ask JHS students to pay any amount before being allowed to select their SHS.
Other schools doing same should STOP the exploitation or we drag them to court for contempt of Article 38 (2) of the 1992 constitution.
Recommended 
Kantanka Car for Teachers and Nurses
Check the NTC Mop Up Dates/Centers for the Teachers Card and get Ready – All Regions
How to Change your District, Rank, Password, download Certs and more on NTC Teacher Portal
How to Login to Your Teacher Portal tpg ntc When Error Appears, Or Change password
JOIN OUR  FORUM TO ASK ANY QUESTION ON TELEGRAM  OR WHATSAPP OR FACEBOOK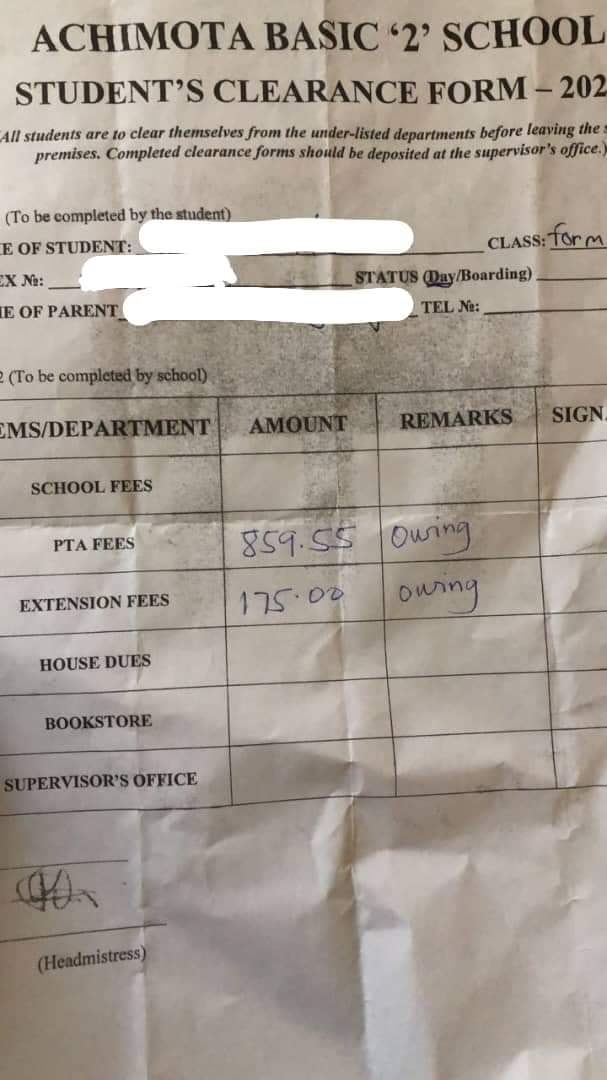 seekersnewsgh.com