Health
Free Surgeries at Tetteh Quarshie Memorial Hospital Sponsored
Free Surgeries at Tetteh Quarshie Memorial Hospital: A Commitment to Healthcare Excellence
Free Surgeries at Tetteh Quarshie Memorial Hospital Sponsored; Tetteh Quarshie Memorial Hospital, Ghana – In a demonstration of their unwavering commitment to healthcare excellence, Tetteh Quarshie Memorial Hospital is proud to announce the forthcoming provision of free surgical procedures.
This initiative, organized in collaboration with a team of skilled surgeons from the United States and the hospital's own surgical experts, embodies the institution's core values of people-centered care, professionalism, teamwork, innovation, discipline, and integrity.
Mark your calendars for this exceptional healthcare endeavor, scheduled to take place in two batches.
The first batch of surgeries is slated from 10th to 15th September, 2023, while the second batch will be conducted from 25th September to 1st October, 2023.
This endeavor aligns with the hospital's ethos of delivering quality care and fostering well-being within the community.
The surgical procedures will address various medical conditions, including hernias, hysterectomy, prostate issues, lipomas, testicular/penis masses, and plastic surgery interventions, specifically burns or scars on the hands.
Screening for these conditions will be available at Tetteh Quarshie Memorial Hospital from 14th August to 1st September, 2023. Patients are encouraged to attend the screening to ensure timely identification and eligibility for the surgeries.
The hospital administration would like to emphasize that while the surgeries are provided at no cost to the patients, certain ancillary services such as lab tests, imaging (x-rays), scans, oxygen therapy, and medications may incur charges.
All patients participating in the surgeries are required to present a valid National Health Insurance Scheme (NHIS) card upon registration.
Makwell Larbi (Mr.), Hospital Administrator acting on behalf of the Medical Superintendent, underlines the hospital's dedication to delivering comprehensive and compassionate healthcare services to the community.
"Your Health – Our Concern" stands as the guiding principle behind these altruistic efforts, and the hospital extends its heartfelt gratitude to the community for their support.
For more information and clarification, please reach out to Ms. Christiana Poku at 0244962585. Stay informed and join hands with Tetteh Quarshie Memorial Hospital as they pave the way for a healthier and thriving community.
Contact Information:
Address: Tetteh Quarshie Memorial Hospital, Ghana Health Service, P.O. Box 26, Mampong – Akwapim
Email: tamhma61@gmail.com
Phone: +233 (0) 501580029
GPS Address: E2-0607-3303
Letter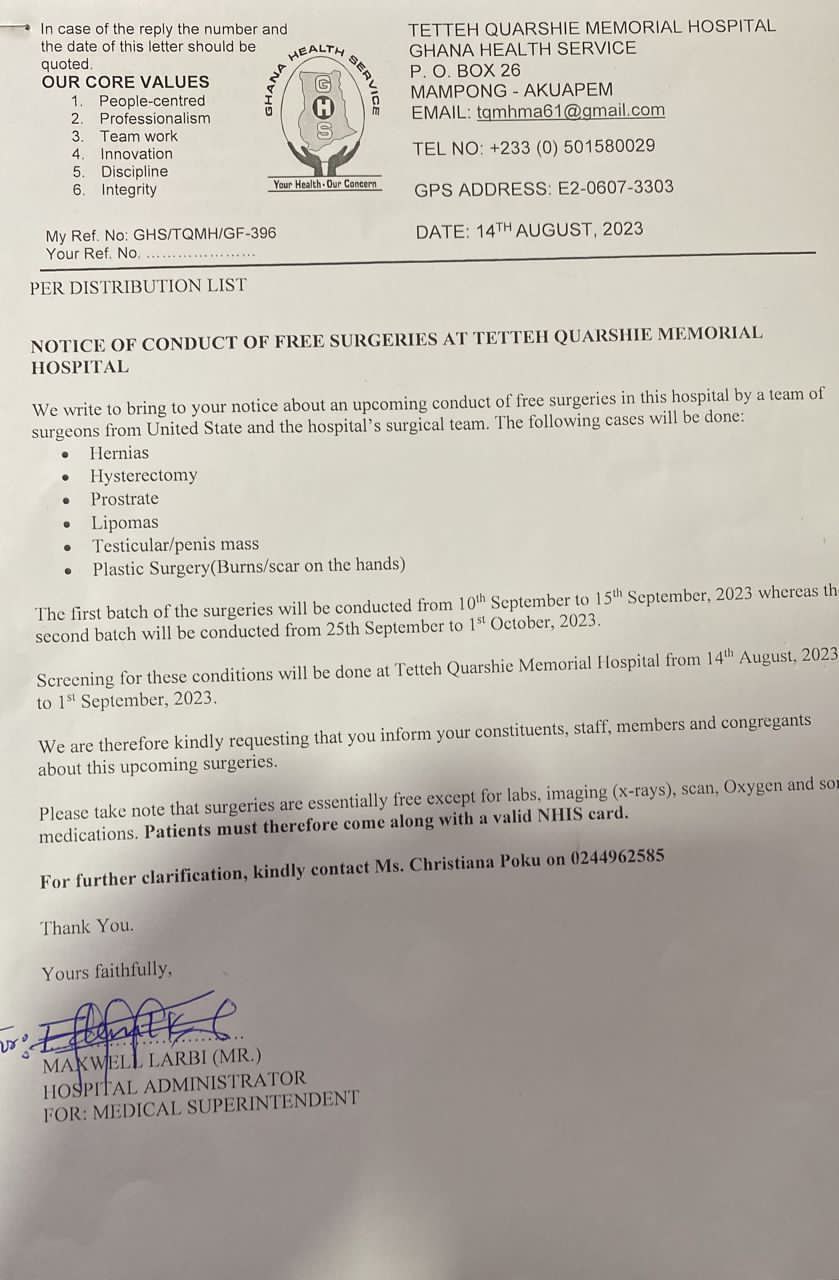 YOU CAN JOIN OUR   TELEGRAM  OR FACEBOOK  PAGES