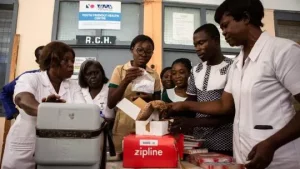 Nigeria and Ghana's health systems stand in contrast (excerpts from the Financial Times, UK)
In Nigeria, 917 women die per 100,000 live births and 72 babies die per 1,000 live births. That compares with 308 and 33 respectively in Ghana, where people on average live nine years longer than in Nigeria.
Ghana has a much smaller population than Nigeria, but a similar gross domestic product per capita at about $2,400. However, its government has been able to deliver better healthcare because it has a more holistic approach to provision, says Ibrahim Abubakar, a professor of infectious diseases epidemiology at University College London and chair of the commission that produced the Lancet report.
"Quality healthcare is the whole package," he says. "Quality of staff in the health centres, medicines, supply chains to provide authentic medicines, recording of information, data systems, and training of healthcare ­workers."
Ghana provides subsidised primary healthcare via a national service, launched in 2003, which gives roughly 40 per cent of its citizens access to routine treatments — such as antimalarial drugs.
Almost 70 per cent of the population in Ghana have some form of health insurance, either through the national health programme or private schemes that can be afforded by the country's middle class. That compares with only about 20 per cent in Nigeria who have health cover to defray treatment costs. A 2012 study found that Ghana's national insurance scheme increased access to the formal healthcare sector.
And, for 1.5mn of its poorest citizens, Ghana provides direct monthly cash transfers worth about $20 to cover healthcare costs. Nigeria has a similar project covering 8mn people that equates to $12 a month but, crucially, Ghana provides insurance in addition to the cash transfer. This ensures that far fewer Ghanaians have to pay for primary healthcare costs themselves.
Health Benefits of Eating Breakfast: The Best And Worst Foods To Eat
Top 10 health complaints by teachers all over the world
source; Read full article here ft.com Financial Times