WhatsApp has introduced a new feature, allowing those who update their app to access it. The widely used messaging application now permits users to follow their favorite Celebrity or Football Club on WhatsApp.
Here's how to set up a channel:
Visit your phone's app store, Google Play Store for Android, or the App Store for iOS.
Search for WhatsApp, and when the WhatsApp icon appears, click on "Update."
After updating, go to the section where you used to see your status.
Now, you'll find "Updates" at the top of the menu. Click on it.
Various options will appear. Click on the "+" icon to add a new channel or find various channels to follow.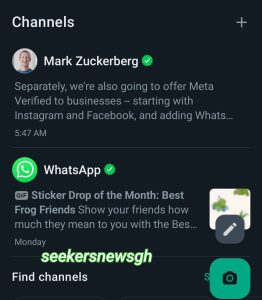 To follow a channel, simply click "Follow."
If you wish to unfollow a channel, click on the three dots at the top right Corner, then Click on unfollow, A confirmatory pop up message will appear o confirm.
WhatsApp mentions that while this channel creation feature is available, it may not be accessible to everyone at this time. If you click "Create Channel" and are directed to find channels instead of creating one, it means you are not yet eligible. You can join a waitlist for updates.
The message states:
Note: WhatsApp Channels has begun rolling out but isn't available to everyone yet.
Join the waitlist to be notified when WhatsApp Channels is available to you.
In areas where Channels are available, we are gradually introducing new features. Some features, such as creating a channel, may not be available to you immediately.
How to Measure WhatsApp Channel Metrics
Only Admins of WhatsApp Channels can  measure metrics,
You will be able to know how many people view your updates, how they respond through emoji, even people who are not your contacts can be viewed as followers.
Note also that the Channel Creattion can be done on Phone, Web or on a Tablet.