CoDE: Admissions Open for 2022/23 Academic Year. Sale of Application forms underway.
SALES CENTRES
The requisite application forms can be obtained from:
1. The banks listed below: All Branches of GCB Bank Ghana Ltd.
a) All Branches of Agricultural Development Bank (ADB) Ghana Ltd.
b) All Branches of Zenith Bank Ghana Ltd.
c) All Branches of Consolidated Bank
d) All Branches of Prudential Bank Ltd.
e) All Branches of GT Bank
f) All branches of ARB APEX Bank and All Rural and Community Banks
g) All branches of Republic Bank
h) All Regional and Major District Offices of GHANA POST.
3. Regional Administrators
4. Study Centre Coordinators
2.0 SALE OF APPLICATION FORMS
The cost of an Application Form is as follows:
Direct Applicant (Diploma and Degree Programmes)
The cost of an Application Form is Two Hundred and twenty-five Ghana Cedis (GH¢225.00).
Mature Entrance Examination Applicants
The cost of an Application Form is Two Hundred and Twenty -fiveGhana Cedis (GH¢225.00).
Applicants are required to pay additional Two Hundred and Fifty Ghana Cedis (GH¢250.00) into University of Cape Coast – College of Distance Education Remittance Account Number xxxxxxxxx at any branch of GCB Bank Ltd. The fee covers ONLY registration, tuition, examination and course pack for preparatory classes. Ask the tellers to direct you to pay into the account or check the account number on the university website.
DEADLINES
The closing date for sale of application forms is 31st December, 2022.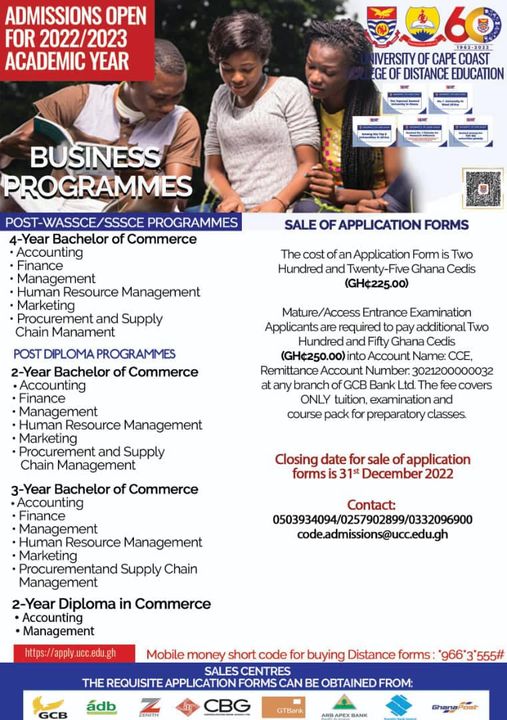 Free Diploma in Education and other subsidized Degree/ Post graduate Courses at UCC – MOE/World Bank Program ; Register Here
2023 UCC Scholarship Applications opened- deadline 30th September, 2022-Apply Here