News
Woman Receives 2-Year Jail Term Following Viral Video of Her Assaulting 5-Year-Old Son
Woman Receives 2-Year Jail Term Following Viral Video of Her Assaulting 5-Year-Old Son.
The video is disturbing, as you may have now seen it. Check Video Here
In a case that gained widespread attention in March 2021, a mother has been handed a two-year prison sentence for the brutal assault on her five-year-old son. Patience Uwimana, a 23-year-old resident of Byuma Village in Kyazanga Town Council, Lwengo District, Uganda, was found guilty by Masaka Grade One Magistrate, Ms. Christine Nantege, for her actions on February 8, 2021.
Uwimana's disturbing actions came to light on March 10 when a video clip circulated on social media depicting her physically abusing her son, Alfred Sebandeke. The footage revealed her striking the child with a cane, delivering kicks to his chest, and stomping on his head.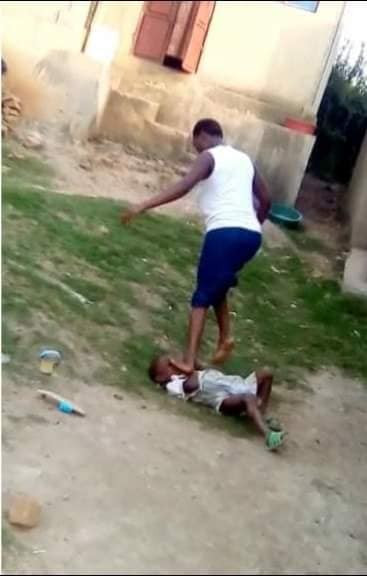 During the trial, state prosecutor Mr. Natal Angwadya urged the court to deliver a strong sentence as Uwimana had a prior conviction for attempted murder and had recently been released from Kisoro Prison. He emphasized her lack of remorse throughout the proceedings, stressing the need to convey a clear message against child abuse.
Deterrent and custodial Sentence
"The nature of this woman's actions is inexcusable," Mr. Angwadya stated. "This honorable court should underscore that inflicting harm upon innocent children is a grave offense. I respectfully request a sentence that serves as both a deterrent and custodial measure."
In her defense, Uwimana pleaded for leniency, attributing her actions to anger stemming from allegations made by neighbors that her son was a habitual thief. "Your worship, I was continuously criticized by my neighbors, who accused my son of stealing. Regrettably, my response was fueled by anger based on their reports. I seek forgiveness for my behavior," she expressed.
Guilty
While acknowledging Uwimana's admission of guilt and her lack of attempts to waste the court's time, Magistrate Nantege stressed that it was Uwimana's duty to safeguard her child from harm. She noted that there was no evidence of prior criminal activity, yet the severity of the assault demanded appropriate action.
"The state has not proven any prior offenses committed by you [Uwimana], hence no criminal record exists. Although assault carries a potential five-year sentence, considering your guilty plea, I hereby impose a two-year imprisonment," the magistrate declared.
Uwimana was informed by the magistrate of her right to appeal the sentence within 14 days if she deemed it unsatisfactory.
Watch Video Check Video Here