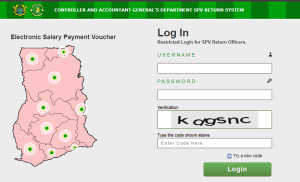 Access the Electronic Salary Payment Voucher (E-SPV) system, and ESPV Salary Validation Portal to Validate Workers.
Check out this Month's Validation Voucher,
Go to Your web browser,
Search the ESPV as a validator
Login with your Credentials
Cross Check the Details of EMployees and Validate
Direct URL www.gogspv.com 
SPV Officers are mostly Alert when the month Validator is Ready, however, you can frequently check the portal if it's ready. You can also use the CAGD Validation Date Chart to Monitor. Proposed dates for Validation, Salary Payment to Public sector workers
About the ESPV salary validation
Employees are paid by the CAGD only after both Heads of Management Units and Human Resource (HR) officers defined on the E-SPV system validate the salaries of employees for the month.
If Heads of Management Units and HR officers do not validate the salaries of employees working under those Management Units the employees would not be paid by the system.
The validation of salaries by Heads of Management Units is a requirement for payment of salaries under Regulation 304 of the Financial Administration Regulation, 2004 (LI 1803)
It has been decided that the CAGD will publish the list of Management Units whose employees' salaries were not paid because of non-validation by the heads of Management Units and HR officers on the CAGD website at www.cagd.gov.gh.
Heads of Departments and employees are encouraged to visit the CAGD website in case they have issues with non-validation of their salaries for more details.
Change of Management Unit
When you change the management Unit, the Old management unit will validate you for some time until your details appear on the New Management Unit's ESPV System to validate you.
If the Old Management Unit does not Validate you, you won't be paid for the Month. It is very important to alert Both Validators to validate you or as a missing Person.
If you have issues with your Epayslip system, and your Validator can not help, go to your District or Regional Controller Rep, to Assist you. How to Change Phone Number on ESPV Controller ( CAGD) Portal NEW Letter Template Download
Today, the official Standard is that you write a letter indicating the Problem, let your Head add a Cover Letter, and submit it to the Controller Rep in your Region or District.