JOIN TEACHER PROFFESSIONAL DEVELOPMENT FOR ALL UPDATES 
Confirmed: GES Releases Staff IDS, Check list, Biometrics Date and Documents Needed.
All You Need to Know about NTC Courses and the Ones to take; How to Register Each Course
TUCEE – NTC Programme For all Teachers; 4 CPD Points
Course For 4 CPD For Private and Public School Teachers-UCC
Fill this form to Get Your NTC CPD Points Read before You Fill
REQUEST FOR NOMINAL ROLL DATA OF STAFF ON (GoG) PAYROLL SYSTEM
Reference to the EXPENDITURE RATIONALISATION MEASURES announced by the Government of Ghana (GoG), dated 19th April, 2022, and our press release dated 12th May 2022, copy attached.
All covered entities are required to confirm the nominal rolls of employees with support from their respective INTERNAL AUDIT UNIT.
Covered entities without Internal Auditors must do same through the Human Resource/Heads of Administration to Ppd_report@cagd.gov.gh as per the attached template.
This directive is with effect from 1st August, 2022.
The attached template should be completed as part of the validation and be submitted on or before 15th of the ensuing month.
Kindly note that, the CAGD would not hesitate to apply sanctions for non-compliance to this
directive.
Kindly contact Michael Arku Kelly (+233268878295/+2335428943) or Michael Dodoo (+233509016479) for any clarification.
WISDOM K. MESSAN
DEPUTY CONTROLLER & ACCOUNTANT-GENERAL (PAYROLL MANAGEMENT DIVISION)
FOR: CONTROLLER & ACCOUNTANT-GENERAL
Employees Number
Full Name
Ghana Card Number
Job
Bank Name
Account Number
Current Management Unit/ Cost Centre
Payroll Active Status
At Post/ Leave
On Leave Type
Confirmed: GES Releases Staff IDS, Check list, Biometrics Date and Documents Needed.
All You Need to Know about NTC Courses and the Ones to take; How to Register Each Course
TUCEE – NTC Programme For all Teachers; 4 CPD Points
Course For 4 CPD For Private and Public School Teachers-UCC
Fill this form to Get Your NTC CPD Points Read before You Fill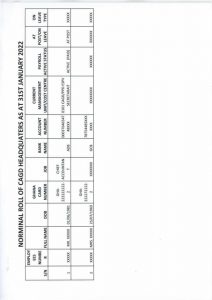 JOIN TEACHER PROFFESSIONAL DEVELOPMENT FOR ALL UPDATES