Politics
NDC National Delegates Congress 2022 live Results with Pictures
Scroll down for earlier results
SORTING AND COUNTING 12:19 AM 18-12-2022. MORE UPDATES SOON
The NDC National Delegate congress will be happening live on 10th December, 2022 and 17th December, 2022.
The results of the elections  will be brought to you Live Here, Current Available results are the 10th December, 2022 results, scroll Down for results. 17th December results will be updated as it happens.
Elections ongoing now
Updating Live,
National Chairmanship position of the party

Something for the road, confirmed results to come soon
Provisional
Incumbent National Chairman, Samuel Ofosu Ampofo, = 2892      33.81%
 Incumbent General Secretary, Johnson Asiedu Nketiah;  =    5569      65.7% winner
The former Greater Accra Regional Minister, Nii Armah Ashitey.        =   38     0.44%
VICE CHAIRMAN
AWUDU SOFO AZOURKA               =  2757 1st winner
DR. SHERRY AYITTEY                       = 1820 2nd winner
ABANGA YAKUBU ALHASSAN        = 864 3rd  winner
SHERIF ABDUL-NASIRU                  =
SETH OFORI OHENE                       =
ALHAJI AMADU B. SOROGHO         =
ALHAJI HABIBU ADRAMANI             =
EVELYN ENYONAM MENSAH           =
General Secretary position

Updates so far, the Confirmed results will be in soon, here are some provisional results
Fiifi Kwetey  in the lead
Confirmed results
Current Director of Elections, Elvis Afriyie Ankrah;  =
The incumbent Deputy General Secretary, Dr. Peter Boamah Otokunor  =
Former Minister of Food and Agriculture and former Member of Parliament (MP) for Ketu  South, Fifi Fiavi Kwetey.  =  Winner 
DEPUTY GENERAL SECRETARY
FRANCIS LANME GURIBE =
CATHERINE DEYNU           =
BARBARA SERWAA ASAMOAH =  3834 Winner
GBANDE FOYO MUSTAPHA      =1861 Winner
KWAME ZU                                =  1717
BRADI PAUL OPATA                    = 62
EVANS AMOO                            = 83
National Organiser position

Joseph Yamin, Sidii Abubakar Musah, Solomon Yaw Nkansah, The incumbent, Joshua Hamidu Akamba.      
NATIONAL ORGANIZER
JOSHUA HAMIDU AKAMBA  = 2035
HENRY OSEI AKOTO               =158
MAHDI MOHAMMED GIBRILL =535
SIDII ABUBAKARI                     =607
SOLOMON YAW NKANSAH     =302
CHIEF HAMILTON BINEY NIXON = 1035
JOSEPH YAMMIN                         =3730 Winner
DEPUTY NATIONAL ORGANIZER
KOBBY BARLON = 4700 Winner
HABIB MOHAMMED TAHIRU = 953
ELIKEM ERIC KEVIN KWAME KOTOKO = 1815 Winner
ALHAJI YAW KUNDOW  =1053
National Communication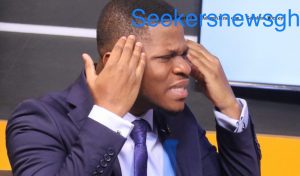 No other person has filed to contest the position of Communication Officer apart from the incumbent, Sammy Gyamfi.
DEPUTY COMMUNICATION OFFICER
GODWIN AKO GUNN =   2630  Winner
ADONGO ATULE JACOB  = 614
MALIK BASINTALE            =  3388 winner
KWAKU BOAHEN ANTHONY = 1138
MOHAMMED NAZIRU           = 758
ZONGO CAUCUS CO-ORDINATOR-
ABASS ZULKARNAIN KAMBARI  = 625
HON. ALHAJI BABANLAMIE ABU SADAT = 10746
MAMAH MOHAMMED COLE YOUNGER = 2746  Winner 
ABDUL-AZIZ MOHAMMED =1819
YAKUBU MAHMUD MUDI = 1530
NEC MEMBERS
wonder
araba
cecilia
victoreria
ephraim
EPHRAIM NII TAN SACKEY = Winner
PEREZ FERNANDEZ ARMAH LARYEA =
ISSAHAKU ISSAH ADEL =
REV. IRENE SENA AGBLEKE =306
ABDULLAH FARRAKHAN ISHAQ =20
MALIK ADAMA =710
VICTORIA KUMA-MINTAH =
EMMANUEL EWOENAM YAO ADZOME-DZOKANDA =
CECILIA N. ASAGA =
EBENEZER EFFAH HACKMAN =
NAJAWA ALHAJI ISSAH =
STEPHEN LADZEDO =
ANITA ANNAN  =
RANSFORD CHATMAN VANNI-AMOAH =
THOMAS AYISI KUMAH =
WONDER VICTOR KUTOR =
MOHAMMED MAMUDU  =
ARABA TAGOE =
FAMOUS KWESI KUADUGAH =
Women's Organiser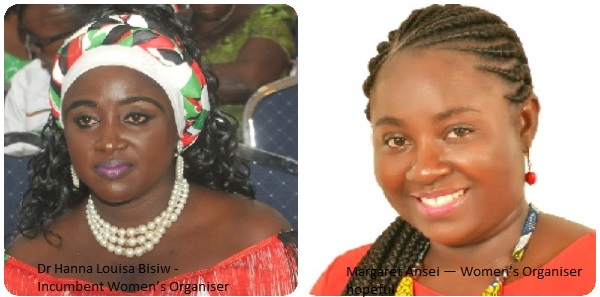 Incumbent, Dr Hanna Louisa Bisiw   433 votes winner
Margaret Ansei, a former MCE for Suhum.  362 votes
DEPUTY WOMEN'S ORGANISER
1. Abigail Elorm  348 votes winner 
2. Felicia  Dzifa Tegah               260 votes  winner
3. Hajia  Alijata Sulemana                     158 votes
4 Jessie       Adams                  21 votes 
Youth Organiser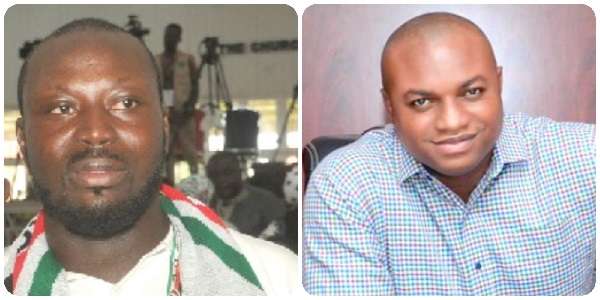 Incumbent, George Opare Addo,  533 votes
 The Ashanti Regional Youth Organiser, Yaw Brogya Genfi.  508 votes
 Deputy Youth Organizers
Osman Abdulai Ayariga 373  votes  Winner 
Ruth Dela Sedoh 313 votes    winner 
Bright Honu 6 votes
Abdul Kareem
Mohammed sadik 61 votes 
karemu Ahmed 51 Votes
Eric Dadson 150 votes
Fredrick Owusu Asare 20 votes 
Obed Opintah 10 votes 
Jude Elorm Sekle  65 Votes
Read Also
 Results of the NPP National Delegates Conference 2022
Biometric Tracking of Public Sector workers attendance by GoG effective Jan. 2023
No Recruitment in civil and public service in 2023 – Ken Ofori-Atta
2023 Base Pay Negotiations; FWSC invites Labour for a further meeting- Peace
21% Plus COLA ; Public sector workers Salary Negotiations