SHS CURRICULUM REVIEW WORKSHOPS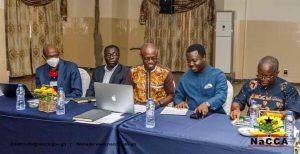 As a sequel to the curriculum review process that started back in 2018, NaCCA has held a series of writing workshops on the Secondary Education Curriculum Review Process.
The various review panels have since committed to the vision for secondary education, culminating in the development of proposed subject philosophies, visions, strands, sub-strands, content standards, learning indicators, and learning outcomes for each learning area.
A prominent feature of the last review workshop saw the various panels interacting with about fifty (50) students from both Mawuli Senior High School and OLA Girls' Senior High School on their views on the existing SHS Curriculum and what changes they hoped to see after completion of the review process.
Summary of the Alleged Controversial New Curriculum for Basic schools to SHS
SHS CURRICULUM REVIEW WORKSHOPS; Student's View Solicited
Read 
JOIN TEACHER PROFESSIONAL DEVELOPMENT FOR MORE UPDATES 
Controversial new education curriculum circulates on social media details
Cancellation of cut-off points into SHS and Demotions in Schools – Question to be answered