News
Tragedy Strikes in Hohoe: Fatal Clash Between Residents and Police
Tragedy Strikes in Hohoe: Fatal Clash Between Residents and Police Leaves 3 Dead and Unleashes Fury
Hohoe, August 30, 2023 – A somber cloud hangs over Godenu, a village near Hohoe in the Volta Region, following a tragic confrontation between residents and the police that has resulted in the loss of three lives and numerous injuries. In a disturbing incident captured on video, chaos unfolded as a police vehicle was set ablaze amid the turmoil.
The heart-wrenching incident unfolded on Wednesday morning when law enforcement officers attempted to apprehend an individual suspected of cultivating Indian hemp on his farm. As the suspect sought refuge within a village house on his motorbike, the situation took a grim turn.
Allegedly, the police resorted to indiscriminate firing, leading to the unfortunate deaths of three residents and leaving several others wounded. Shockingly, all motorbikes in sight were reportedly set ablaze by the police as well.
In a retaliatory response, incensed villagers purportedly set fire to one of the four police vehicles present at the scene, adding to the escalating tension.
Images emerging from the scene depicted injured residents being rushed to the hospital in taxis, with the ground stained by blood—a stark reminder of the tragedy that unfolded.
The wounded are currently undergoing medical treatment, while the deceased have been transported to the morgue.
Local sources report that the Member of Parliament for the area has been apprised of the dire situation, prompting the launch of an official police investigation into the incident. As a consequence of the clash, fear has gripped the village, forcing many residents to confine themselves indoors out of concern for their safety.
Francis Kakraba, a resident of the village, recounted the grim events to citinewsroom.com, saying, "In the morning around 10 a.m.,
"I heard some gunshots. I rushed out and saw some people screaming. The police after failing to arrest a farmer who was returning from his farm suspected to be carrying Indian hemp rushed to the community and started shooting. Some of their vehicles caught fire in the process. Some people sustained injuries and others have died."
The tragic incident has ignited a wave of fury and outrage among the villagers, who demand justice for the lives lost and an end to the alleged police brutality that has cast a shadow over their community.
As investigations unfold, the nation watches closely, hoping for a resolution that will ease tensions and pave the way for healing in the wake of this heartrending tragedy.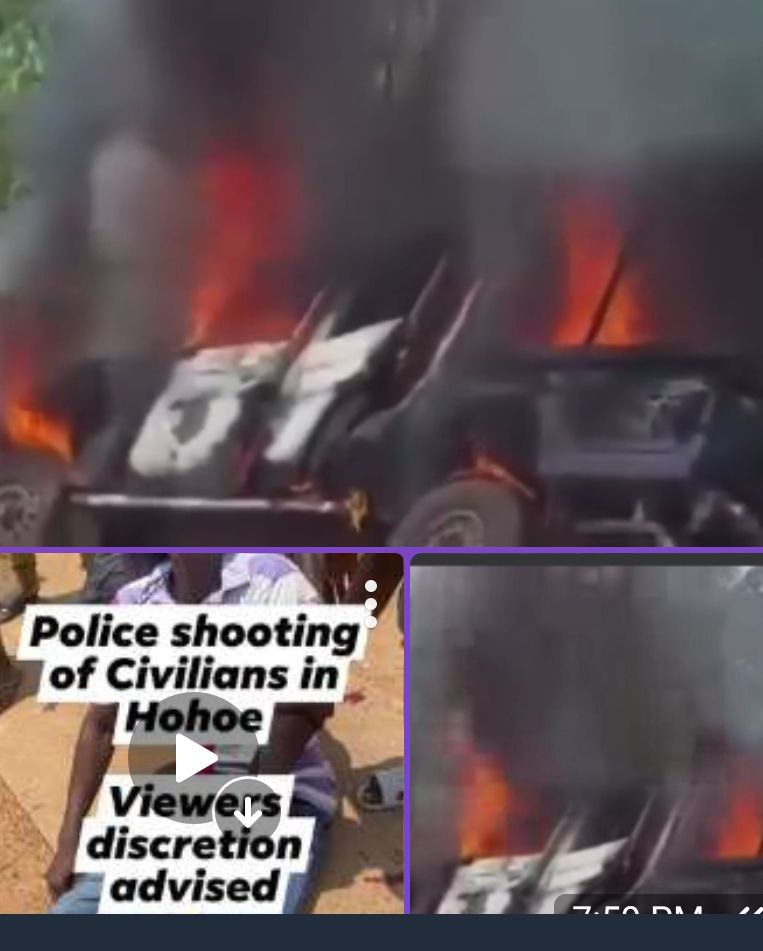 Disturbing Videos, Kindly Watch Click here to Watch Videos