Access the UHAS Epayslip Portal Login here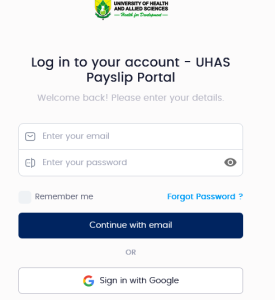 Access the Epayslip Via the Main Website
To Access the University of Health and Allied Sciences E-Payslip Portal,
Go to You the Main University Web Site, https://www.uhas.edu.gh/en/
Go to the Footer section
Click on Quick Links
Click on Epayslip Portal
You'll be Redirected to a new Page,
Click Continue to the Epayslip Portal.
Enter Your Email and Your Password to Signin.
Epayslip Portal Access Direct
You Can access the Epayslip Portal Directly,
Go to your web browser
Search UHAS Epayslip Portal Or Use the Direct URL Provided Below.
Use this direct Login Link https://epayslip.uhas.edu.gh/
Click here to Continue after You oclick on the Link to have Access.
Enter Your email and Password to Signin.
Always Make sure the site Link is secured before providing your Login Credentials.