Constitutional Theorist and an Associate Professor at Ashesi University, Dr Maame Mensa-Bonsu has raised concerns about the practice of automatic review of salaries for Article 71 officeholders.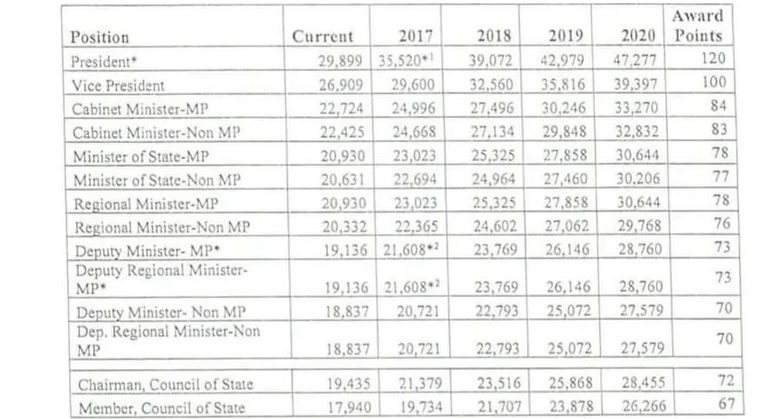 Speaking on JoyNews' Newsfile, the constitutional theorist supported the ideology of abolishing the Emolument Committee which is the team responsible for reviewing the salaries and other privileges of the aforementioned public service officers.
The 2023 Minimum Wage of 10% factored 15% COLA and at 54.1 % Inflation
Making her argument, Dr Mensa-Bonsu could not comprehend why Article 71 officeholders automatically have a review of their wages when the citizens are denied that right.
In her view, this practice would make the officials lose touch with the populace.
"It is a bad strategy to insulate your leaders from the experience of its citizens because our problems don't become your problems. So we really need to consider how we remunerate our public officers," she said on Saturday.
Dr Mensa-Bonsu's comments come after the Constitutional Review Consultative Committee chaired by Clara Beeri Kasser-Tee, a lecturer at the University of Ghana School of Law released its report.
One of the Committee's reviews is the call to "Abolish Regional and Deputy Ministers".
According to Dr Mensa-Bonsu, she "almost danced in joy when" she saw the said review.
"I have long wondered what regional ministers do and why we have them?" she quizzed.
She further suggested that the time is ripe for Ghana to practice a full-on presidential system of government.
In her view, this would allow the legislative arm of government to effectively check the executive.
"… It is a great way of separating the Executive from the Legislature and allowing Parliament to do its job in the Presidential system which is to check the Executive," she told Samson Lardy Anyenini
2024 Base Pay and Salary Negotiation, Official Invitation to Meeting FWSC
Source; Myjoyonline.com