News
Elon Musk Said He doesn't own a house, buys Twitter for $44 billion
Elon Musk acquires Twitter for roughly $44 billion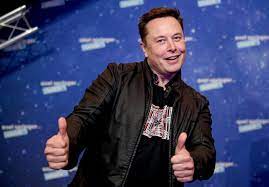 Elon Musk Said He doesn't own a house, buys Twitter for $44 billion
The company's board and the Tesla CEO hammered out the final details of his $54.20 a share bid.
SAN FRANCISCO — Elon Musk acquired Twitter for $44 billion on Monday, the company announced, giving the world's richest person command of one of its most influential social media sites — which serves as a platform for political leaders, a sounding board for experts across industries and an information hub for millions of everyday users.
Elon Musk says he doesn't own a home, sleeps at friends' houses
The acquisition followed weeks of evangelizing on the necessity of "free speech," as the Tesla CEO seized on Twitter's role as the "de facto town square" and took umbrage with content moderation efforts he views as an escalation toward censorship. He said he sees Twitter as essential to the functioning of democracy and said the economics are not a concern.
2022/2023 UCC 3 SEMESTER PROGRAM ADMISSION OPENED
AUTOMATIC SALARY INCREMENT/JUMP -GES
Ownership of Twitter gives Musk power over hugely consequential societal and political issues, perhaps most significantly the ban on former president Donald Trump that the website enacted in response to the Jan. 6 riots.
Under the terms of the deal, Twitter will become a private company and shareholders will receive $54.20 per share, the company said in a news release. The deal is expected to close this year.
"Free speech is the bedrock of a functioning democracy, and Twitter is the digital town square where matters vital to the future of humanity are debated," Musk said in the release, to which he appended "Yesss!!!" and emoji in a tweet. "I also want to make Twitter better than ever by enhancing the product with new features, making the algorithms open source to increase trust, defeating the spam bots, and authenticating all humans. Twitter has tremendous potential — I look forward to working with the company and the community of users to unlock it."
Musk's Twitter deal expands his portfolio, which already includes rocket building company SpaceX, which has aspirations of landing on Mars, and the electric carmaker Tesla, that has pushed electric vehicles into the mainstream.
"He's more powerful than countries now," said Ross Gerber, a Tesla investor close with Musk who said he had bought Twitter shares last week in hopes the deal went through. "He has the most important technology asset in America … probably one of the most strategic military assets in the world … and now he has one of the most important communications tools in the world."
REVISED LIST OF UNIVERSITY OF GHANA- UG ACADEMIC PROGRAMMES 2022/2023
Musk's positions on free speech and how to police the site have put him relatively at odds with current leadership at the site, raising questions about how he will seek to steer his changes through and whether they will impact Twitter's current executive makeup.
Musk has said he would open up the website's algorithm, putting content moderation decisions into clear view, although some researchers have said that would be difficult. He has also pushed for simple, broadly popular changes such as adding an edit button, as well as pledging to eliminate spam bots. And he has said he wants to open up Twitter's verification process to more users, so the authenticity of accounts can be determined more easily.
Musk, an avid Twitter user with over 83 million followers, earlier on Monday hinted that a deal was close, laying out his vision for the future of Twitter in a midday tweet. "I hope that even my worst critics remain on Twitter, because that is what free speech means," he wrote.
The deal would rank among the largest activist takeovers of a publicly traded company, according to Dealogic, which tracks data on mergers. Since 1995, the largest takeover by activist shareholders of a company was AstraZeneca's 2021 purchase of Alexion Pharmaceuticals for about $42 billion, Dealogic said.
"Twitter has a purpose and relevance that impacts the entire world," Twitter CEO Parag Agrawal said in the release. "Deeply proud of our teams and inspired by the work that has never been more important."
Twitter board chair Bret Taylor said the decision came down to the economics of the deal. "The proposed transaction will deliver a substantial cash premium, and we believe it is the best path forward for Twitter's stockholders," he said in the release.
Twitter's board completed its review of Musk's offer last week, including coming up with a range of possible valuations of the company, said a person briefed on the discussions, who was not authorized to discuss them publicly.
Taylor spoke directly with Musk on Saturday to update him on the process. At the conclusion of Twitter's board meeting on Sunday, the company notified Musk it was ready to proceed with a deal around his proposed price, the person said.
Twitter kicked off deal negotiations with Elon Musk on April 24 after he wooed many of the social media company's shareholders. (Video: Reuters)
The saga of Musk's Twitter ownership kicked off on April 4 when Musk surprised investors by disclosing he had taken a more than 9 percent stake in Twitter.
Twitter responded on April 5 by offering Musk a board seat in an effort to avert a hostile takeover. Musk turned the seat down on April 9. By April 13, financial filings said, Musk expressed his intention to conduct a hostile takeover of the company.
Meanwhile, Twitter seemed poised to reject Musk's hostile takeover bid for the social media platform. The board adopted a so-called "poison pill" plan the day after Musk's offer became public, which would make it much more difficult for the billionaire to buy the company.
The strategy, known as a shareholder rights plan, would let investors buy Twitter stock at a discounted price unavailable to Musk. The flood of new shares would potentially make it prohibitively expensive for Musk to buy the company.
HOW HE DID IT
Then Musk outlined his financing last week, saying he secured $46.5 billion through loans by banks, including Morgan Stanley, and his own equity.
The company's board of directors met with Musk on Sunday, and negotiations extended into the early hours of Monday, according to another person familiar with the negotiations, who spoke on the condition of anonymity because of the sensitivity of the discussions. The two sides were focused on determining whether Musk had the financing to complete the acquisition, and did not spend much time discussing Musks's strategy for the future of the social network, the person said.
Musk had also met privately with several large Twitter shareholders in recent days, with some expressing their support for his bid, the person said. The two sides did not see regulatory issues, such as an antitrust review, as likely roadblocks to closing the deal, the person added
One of the factors motivating the board's decision was the challenging recent environment for tech stocks, which have experienced losses this year after riding high during the pandemic. The tech-heavy Nasdaq stock index, which nearly doubled from early 2020 to late 2021, has declined 18 percent this year. Growing Twitter's value beyond Musk's offering price would likely require bucking this trend and outperforming most of the tech sector, the person said. Almost all of the key events took place over video conference calls, the person said.
Musk taking over is likely to reignite tense controversy between being extremely lenient on what is allowed on the site and ridding the platform of hate speech and violent content — a balance all social media companies struggle with.
NAACP President Derrick Johnson said in a statement Monday that "lives are at risk, and so is American democracy."
"Mr. Musk: free speech is wonderful, hate speech is unacceptable. Disinformation, misinformation and hate speech have NO PLACE on Twitter. Do not allow 45 to return to the platform," he said, referring to President Trump.
Musk is worth about $259 billion according to the Bloomberg Billionaire's Index, but much of his wealth is tied up in stock. The entrepreneur serves as CEO of electric car company Tesla, aerospace company SpaceX, and co-founded payment service PayPal.
Beyond the bank loans, it's unclear how Musk intends to pay for more than $21 billion of the deal which he described as "equity financing" from himself. He could borrow against or sell shares of his Tesla stock, though that path would raise risks for the share price of the electric carmaker.
"If Elon Musk were forced to sell shares of our common stock that he has pledged to secure certain personal loan obligations, such sales could cause our stock price to decline," Tesla warned in its annual filing.
Musk took a more than 9 percent stake in Twitter earlier this year, leading to two wild weeks of back-and-forth with the company. The company announced he would join the board, then days later said he had withdrawn. Musk launched his hostile takeover bid soon after.
As of Monday afternoon, the proposed deal did not include a so-called "go shop" provision that is a common term in large mergers which allows boards of directors to continue seeking a higher offer from other potential bidders, the person familiar with the deal said. The absence of this provision is likely to make the deal close faster.
Some Tesla investors have bristled at Musk's bid because they say it distracts from his responsibilities as chief executive and could slow momentum at one of the world's most valuable automakers. And internally, Twitter employees have raised concerns about Musk's potential effect on the culture.
Elon Musk is worth $270 billion. He'd buy Twitter with an IOU.
Musk is very active on the platform, having tweeted more than 17,300 times. He averages 125,180 likes per tweet, according to Socialtracker. Musk has earned praise for his wide-ranging approach to the site: he toggles freely between crude memes of his rivals, polls on the state of free speech and critical business decisions.
His tweets have gotten him in trouble with the Securities and Exchange Commission: In 2018, he wrote that he had "Funding secured" to take Tesla private at $420 a share.
He said he chose the number $420 "because he had recently learned about the number's significance in marijuana culture and thought his girlfriend would find it funny, which admittedly is not a great reason to pick a price," according to the federal complaint.
Some had speculated his offer price of $54.20 per share might be a joke.
The deal could raise new regulatory issues for Musk, too.
Because of the deal's size, Musk will be required under federal law to report his purchase of Twitter to the Federal Trade Commission and Department of Justice. Multiple legal experts said the deal does not present clear antitrust concerns. But given Democrats' focus on concentration of power, especially in the tech sector, it's possible that the government regulators could open a review of the deal and slow it down.
"If you're sitting in the agencies, you're aware of that atmosphere," said William E. Kovacic, a former Republican chair of the Federal Trade Commission. However, he said it is unlikely that there would be a legal basis for a significant delay in closing the deal, because there is not a clear competitive link between Twitter and Musk's other businesses.
Regulators could raise objections to Musk collateralizing the purchase with Tesla stock, according to former Securities and Exchange Commission lawyer Tyler Gellasch, who now runs Healthy Markets, a nonprofit advocating market reforms.
"This is buying a lot of one company by borrowing against billions of dollars in shares of another company, and that very concentrated collateral carries risks," Gellasch said. "If it leads the banks to say they're going to need more and different collateral, that wouldn't block Musk's purchase per se, but it could make the logistics of the deal dicier."
Source: https://www.washingtonpost.com/