News
Ghana Meteo Weather; Possible rain this Morning and Afternoon 9/07/22, Areas includes
The Ghana meteorological agency today 9th July, 2022 has just announced possible rain over some coastal areas this morning and Afternoon.
Areas within the middle and transition zones are forecast to experience thunderstorms or rains later in the day.
There are chances of slight to moderate rains over a few places in the coastal and northern sectors of the country this morning.
However, thunderstorms or rains are expected over parts of the middle and coastal sector this afternoon.
Thunderstorms or rains are likely to affect the middle, transition, and northern sector in the evening. Misty weather will form early this morning over mountainous and forest areas.
issued at 0500 UTC    Date 09/07/2022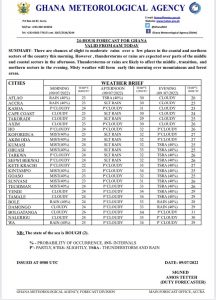 source ;Ghana Meteorological Agency