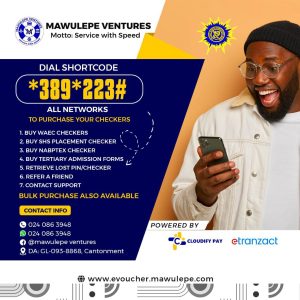 Introduction: The West African Examinations Council (WAEC) has release the 2023 BECE results  and you may be eager to check your or your child's results. 2023 BECE Results for Schools and Private Candidates Released Check
When Will WAEC Release the 2023 BECE Results?
To ensure you get a genuine BECE/WASSCE results checker and avoid potential fraud, we've outlined a simple process for purchasing it using mobile money (Momo) on all networks.
Here's a step-by-step guide on how to obtain your BECE results checker:
Dial *389*223#:

To initiate the process, dial *389*223# on your mobile phone.

Select Option 1:

After dialing the code, you will be prompted to select an option. Choose option 1 to buy your BECE results checker.

Follow the Prompts:

Follow the prompts provided on the screen to complete your purchase.

Receive the Code via SMS:

Upon successful payment, the BECE results checker code will be sent to you instantly via SMS.
Online Purchase: If you prefer to buy your BECE results checker online, you can visit the website evoucher.mawulepe.com and follow these steps:
Visit evoucher.mawulepe.com:
Select "BECE" as the Checker:

On the website, select "BECE" or WASSCE as the type of checker you want.

Choose the Quantity:

Specify the quantity of BECE or WASSCE results checkers you wish to buy.
Bulk Purchases and Inquiries: For bulk purchases or if you have any inquiries, you can reach out to Mawulepe Ventures through WhatsApp at https://wa.me/233240863948.
Additional Information:
Mawulepe Ventures is your trusted source for electronic vouchers and ensures quick service.
They also offer other checkers like WASSCE, SHS Placement, NOVDEC, and more.
Network-Specific Instructions: If you are using MTN Momo, follow these specific instructions:
Dial *170#:

Dial *170# on your MTN mobile phone.

Select "MomoPay and Paybill":

Choose "MomoPay and Paybill" from the available options.

Select "Paybill":

Under "MomoPay and Paybill," select "Paybill."

Choose "General Payment":

Next, select "General Payment."

Enter Payment Code: MAWU

Enter the payment code: MAWU.

Enter Amount: 17

Specify the amount as 17.

Enter Reference: BECE

Enter "BECE" as the reference.

Enter Your Momo Pin:

Finally, enter your Mobile Money (Momo) pin to complete the transaction.
Code Delivery: Once the transaction is completed, the BECE results checker code will be sent to you via SMS.
Network-Specific Codes: You can use these network-specific codes to purchase various types of result checkers:
BECE for BECE RESULTS CHECKERS
SHS for SHS PLACEMENT VOUCHERS
WASSCE for WASSCE/ABCE/GBCE RESULTS CHECKERS
NOVDEC for NOVDEC RESULTS CHECKERS
Conclusion: Now that you know how to purchase your BECE or WASSCE results checker, you can easily access your 2023 BECE or WASSCE results without any hassle. Remember to choose the appropriate checker code and enjoy the convenience of mobile money transactions for a secure and efficient process. If you encounter any challenges, feel free to contact Mawulepe Ventures at 0240863948 for assistance.
WAEC Ghana Result Online Checker 2023
Free WASSCE Results Checker 2023