Jobs
General Enlistment into the Officer Corps and Recruitment into the Ghana National Fire Service Recruitment 2023- Disclaimer 
General Enlistment into the Officer Corps and Recruitment into the Ghana National Fire Service Recruitment 2023- Disclaimer
The Ghana National Fire Service has Disclaimed a letter Titled General Enlistment into the Officer Corps and Recruitment into the Ghana National Fire Service Recruitment 2023-
The letter circulating on social media for some time now, has prompted the Attention of the Ghana National Fire Service to React. In a Publication on their Official Pages, they Discliamed the letter saying it was not coming from them and anyone involved should be reported to the nearest law Enforcement.
The Letter Which was signed with an impersonated signature reads,
GENERAL ENLISTMENT INTO THE OFFICER CORPS & RECRUITMENT INTO THE GHANA NATIONAL FIRE SERVICE 2023
The Ghana National Fire Service has opened enlistment/recruitment opportunities for eligible Ghanaian Citizens interested in Saving Lives and Property from the ravages of disaster.
Available Position for 2023 Ghana Fire Service Recruitment:
-Civil Engineers
– Mechanical Engineers
-Chemical Engineers
– Electrical Engineers
– Architectural Engineers
– Transport and Workshop Officers
– Estate Officers
– Marketing Officers
– Accountants
– Marketing officers
-Counsellors
– Lawyers
-Drivers and Mechanics
-Technicians
-IT Technicians
– Nurses
-Bandsmen
– Electricians
– Drivers and Driver Mechanics
– Sportsmen and Women
– Registered General Nurses(RGN)
– Bandsmen
– Electricians
-Caterers
-Record keeper
– Surveyors
QUALIFICATIONS
– Senior High School Certificate and above
All interested persons should send their application letters and CVs directiy to the email:
The Ghana National Fire Service is warning people who may have changed over the letter to disregard and report the fraudsters to the police.
2023 Recruitment
The Ghana National Fire Service has not opened recruitment in 2023 yet as many are asking when the Service is going to open recruitment.
According to GNF, when the recruitment is opened, it will be published officially in the Daily Graphics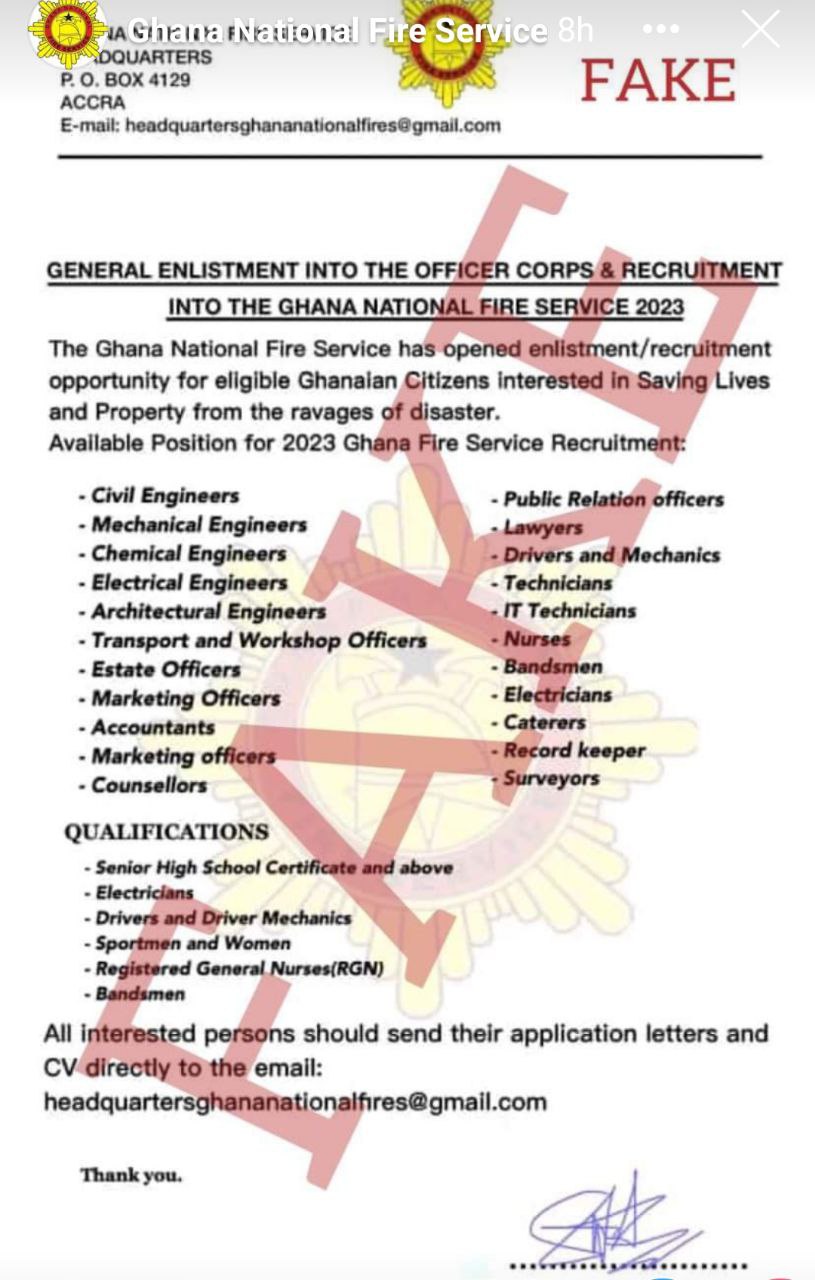 JOIN NATIONAL RECRUITMENT GUIDE FOR MORE UPDATES TELEGRAM