News
PUBLIC WARNED TO DESIST FROM OPEN BURNING – GNFS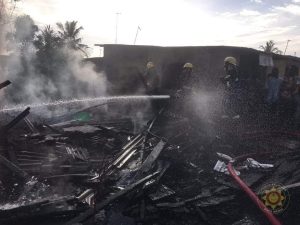 The Ghana National Fire Service is issuing a public warning to refrain from open burning, particularly during the current harmattan season in Ghana, due to the severe consequences.
Tema Region, Saturday, November 18, 2023, An uncontrolled burning of refuse led to the total destruction of a hall and chamber wooden structure at Golf City near Bethlehem Presby Church in the Tema Region.
The fire, which was reported at 0651 hours, took about 18 minutes to be totally extinguished after arriving at 0706 hours.
The fire officers were able to salvage a Matiz with registration number GN 2760 -18 and a two-bedroom house, which slightly got burnt by the radiated heat.
The general public is entreated to desist from starting fires that can not be controlled or monitored even as the harmattan season sets in.
Source; GNFS PRO.