News
Married Woman Nearly Loses Finger after Buying Another Wedding Ring – Check Possible Cause
Married Woman Nearly Loses Finger after Buying Another Wedding Ring – Check Possible Cause
35 -year – old married woman Faustina Richster finger was nearly chopped off after she bought a wedding ring from her friend to replace her lost ring.
Faustina Richster revealed that her original wedding ring was lost some months ago so she consulted her friend who sells rings for replacement.
In an interview with Utv news Faustina Richster indicated that, after putting the ring on her finger, her hand started swelling after a day.
She said all efforts to remove the stuck ring from her hand yielded no results, it took the intervention of medical officers from Kasoa Mother and Child Hospital and pastors before the ring was able to cut off.
There are several possible causes for the swelling in this scenario:
1. Allergic reaction: The woman could be allergic to the material of the wedding ring, such as a certain metal or coating, causing an allergic reaction and subsequent swelling.
2. Infection: If the ring was not properly sanitized or cleaned before being sold to the woman, it could have introduced bacteria into her finger, leading to an infection and swelling.
3. Injury: The woman may have unknowingly injured her finger while trying the ring on or during the process of buying it, causing the swelling.
4. Tight fit: If the wedding ring was too tight or too small for the woman's finger, it could have restricted blood flow, leading to swelling.
5. Pre-existing condition: The woman may have an underlying medical condition that predisposes her to finger swelling or reactions to certain materials, making her more susceptible in this situation.
6. Unknown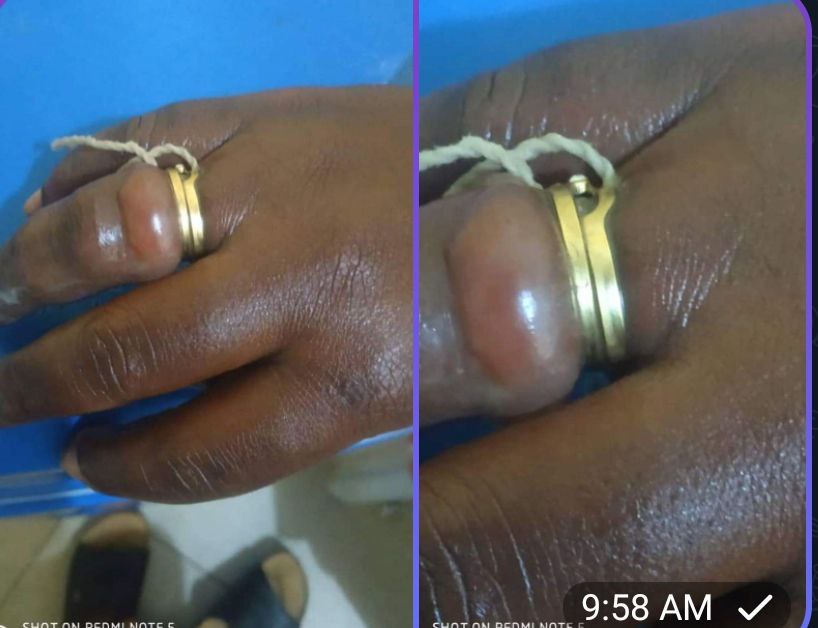 Credit; Okayfm/UTV
Seekersnewsgh.com