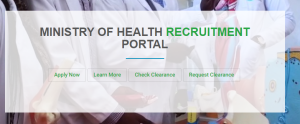 The Ministry of Health in Ghana offers an easy and accessible online portal for health professionals to apply for job positions and clearances thus MOH Recruitment Portal Login | Clearance.
This portal is open to doctors, nurses, midwives, physician assistants, and other healthcare experts who have been granted financial clearance by the Ministry of Finance.
In this guide, we'll walk you through the steps to navigate the Ministry of Health Recruitment Portal and apply for job openings or request clearances.
Job Applications,
Job openings are announced through official letters and media publications, including various blogs and social media platforms
Upon seeing or receiving the job opening announcement, Prospective health professionals are to visit this portal to Apply for the Job.
How to Apply
First, go to your web browser and search the Ministry of Health Recruitment Portal
Visit the  https://hr.moh.gov.gh and Click to Open
For First-time Users Click on Apply
Provide your Pin or Index Number
Enter Your Full Name
Provide your Moh recruitment portal login gmail or your email
Enter Password and confirm
Click on Register
Doctors should type their registration numbers without space. Eg. MDC/RN/10316 should be MDCRN10316.
Login
If you already have an account on the recruitment portal, you do not need to Create account again
On the recruitment Portal,
At the top right Corner, Click Login
Provide Pin/License Number/Index Number and
password to Login
If you forgot Login Credentials or password,
Click on the forgot password
Enter Pin/ Index number to receive your reset login credentials.
For Clearance Portal
If you need to Check Clearance status or Request for Clearance, you will use the same portal
Go to your web browser, search MOH Recruitment portal / clearance
On the Portal click on the last item, Clearance Request
Applicants who couldn't find their information in the system have to use the form provided on the portal  to request for financial clearance.
The Request form demands for your
Name
Index number
Phone number
Program and Year completed then
Click on submit
Checking Clearance Status
If you want to check for the clearance status,
Visit the same Portal
Click on the third Item, Check Clearance
Enter your Pin/License Number/ Index number
provide your Full name
Click on submit to Check status
For International Applicants,
On the Recruitment Prortal
Click on international, '
Create account with the same procecedure outlined above or login if you already have an account.
MOH IT Support
If you have any questions, please feel free to contact the IT Support, their support service center is working for  24/7.
The Recruitment Portal Serves  the agencies listed below
AGENCIES
TAMALE TEACHING HOSPITAL (TTH)
MENTAL HEALTH AUTHORITY (MHA)
KORLE BU TEACHING HOSPITAL (KBTH)
CAPE COAST TEACHING HOSPITAL (CCTH)
HO TEACHING HOSPITAL (HTH)
CHRISTIAN HEALTH ASSOCIATION OF GHANA (CHAG)
KOMFO ANOKYE TEACHING HOSPITAL (KATH)
GHANA HEALTH SERVICE (GHS)
AHMADIYYA MISSION HEALTH SERVICES (AMHS)
Note that.
The public is kindly informed that the Ministry of Health does not charge money for recruitment and postings, therefore all applicants are advised not to make any payment for this recruitment, and whoever pays, does so at their own risk.
Any person who demands money should be reported to the Chief Director of the Ministry.