NEW UPDATE 23% increase in Base Pay, and 2% later Read more here Click – Update on 2024 Minimum wage and Public Sector Base Pay Negotiations
 75.1% Against 15% – 2024 Minimum Wage and Salary Negotiations Update in Ghana November
We hope this message finds you well. The Fair Wages and Salary Commission extends an official invitation to your esteemed labor union for a crucial base pay negotiation meeting scheduled for the 13th of November 2023.
In response to recent speculations regarding a purported 6% proposal by the government for an alleged increment, Latest Developments in 2024 Minimum Wage and Salary Negotiations: 6% Proposal Sparks Concern we would like to clarify that these were mere speculations.
This official invitation marks the commencement of the negotiation process, wherein the base pay will be established, paving the way for subsequent salary negotiations.
It is noteworthy that teacher unions are actively engaged in rectifying the collective agreement between teachers and the Ghana Education Service.
2024 Salary Negotiations: Teacher Unions Prioritize Allowances Over Increment
Numerous allowances have been identified that currently do not reflect on teachers' payslips, and efforts are underway to address these discrepancies.
In light of the upcoming 2024 budget presentation by the Finance Minister on the 15th of November 2023, there is a possibility that the government and labor unions have already conducted closed-door meetings to streamline the negotiation process, potentially leading to a more efficient and concise negotiation this year.
This meeting is of utmost importance, as it holds the key to determining the base pay and subsequent salary adjustments.
We understand the anticipation among workers for this news, and we believe that through collaborative efforts, a fair and mutually beneficial agreement can be reached.
We look forward to your active participation in this significant negotiation meeting.
I trust this message finds you well. The Fair Wages and Salaries Commission (FWSC) extends its cordial invitation to the representatives of the Government Team and Labour Unions/Associations, as listed in the attached document, for a crucial meeting on base pay negotiations.
Details of the meeting are as follows:
Date: Monday, 13th November 2023
Time: 2:00 pm
Venue: MELR Conference Room
Agenda: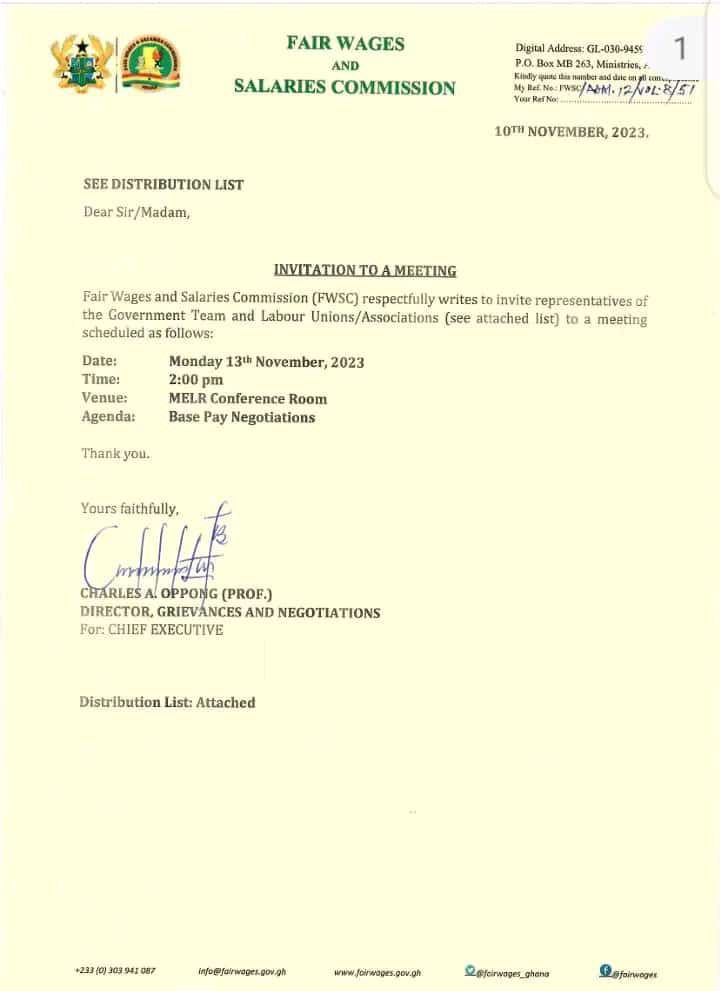 NEW UPDATE 23% increase in Base Pay, and 2% later Read more here Click – Update on 2024 Minimum wage and Public Sector Base Pay Negotiations
Last Year Explanations to the NLC 10% Minimum wage
NEW UPDATE  75.1% Against 15% – 2024 Minimum Wage and Salary Negotiations Update in Ghana November
Join Us Public Sector Salary Updates