The National Teaching Council (NTC) has reinstated the EDMAT Foundation following discussions about the suspension of its activities.
However, specific guidelines must be followed, including working only in assigned districts, adhering to accreditation program periods, refraining from organizing additional training after the assigned districts and awarding CPD points within two weeks.
The letter, dated April 27, 2023, also emphasizes cooperation.
This came as  NTC Suspended their CPD activities.
According to the Letter you can now, do courses with the EDMAT Foundation within Specified Districts.
The NTC advises against engaging with unapproved CPD providers and recommends checking the NTC List for authorized service providers.
The letter,
.
RE: SUSPENSION OF TRAINING BY EDMAT FOUNDATION
The Management of the National Teaching Council hereby inform you that following your
ngagement with your organization on the issues that led to the suspension of your activities, the
Council has re-instated your organization.
You are therefore requested to comply with the following guidelines which were agreed upon:
1. Work in only the districts that would be assigned to their organization.
2. Adhere to the expiration periods attached to accreditation programmes in assigned
districts.
3. Refrain from organizing mop up training programmes after organizing training in the
assigned districts.
4. Award CPD points to participants within two weeks after organizing the programme in
assigned district(s).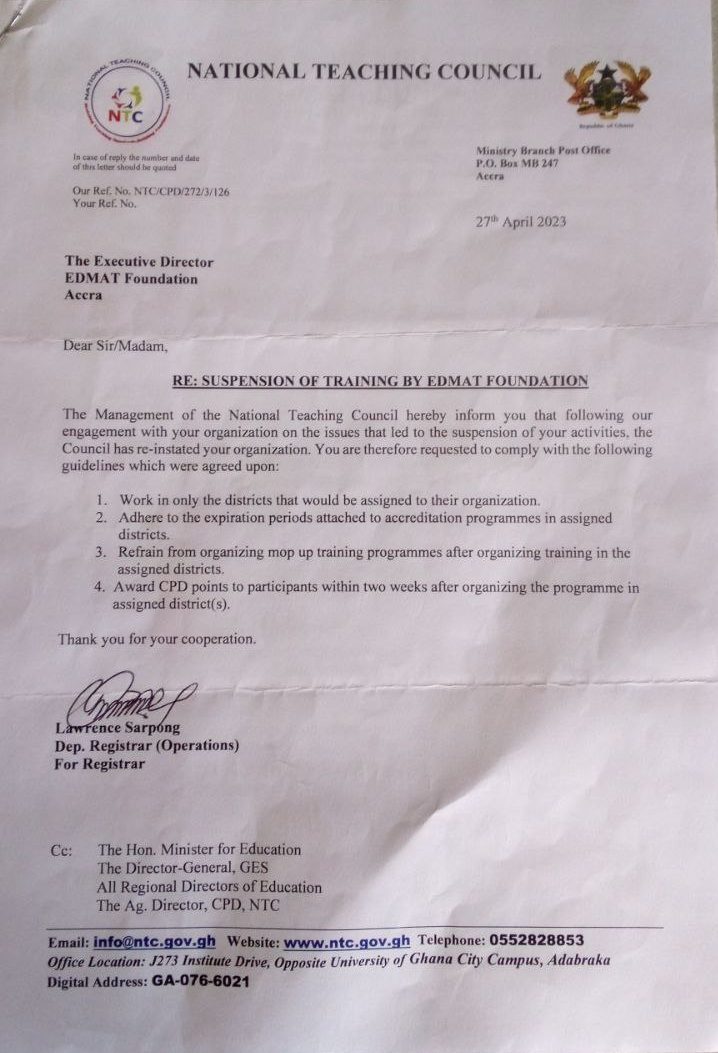 Updated Full List of NTC CPD Service Providers
YOU CAN JOIN OUR   TELEGRAM  OR WHATSAPP OR FACEBOOK  PAGES
Background
Invitation to Attend A Day's Point base CPD workshop.
How to Login to Your Teacher Portal tpg ntc When Error Appears, Or Change password
How to get your claims after terminating with an Association/Union
CAGD (GOG) How to Change Association on Epayslip Portal- NEW
Can I change My Bank on the GoG (CAGD) Epayslip Portal? Read more