In a release by the Teacher unions, Following so many allegations being made about the Professional Allowance, the letter which is directed to the Director General of Education is to remind the Service of the Payment of PDA.
Alleged Deductions to Hit 2022 PDA Leaked; Ghc 430 plus
It Reads,
PAYMENT OF CONTINUOUS PROFESSIONAL DEVELOPMENT (CPD) ALLOWANCE
We the Teacher Unions, officially write to remind you of the 2022 Continuous Professional Development (CPD) Allowance for Teaching Staff of Ghana Education Service as provided for in Section 16.0 of the 2020 Collective Agreement for Teaching Staff within the Ghana Education Service.
It is our hope that, the CPD Allowance would be paid before the end of 31 December, 2022
Thank you
Yours faithfully,
THOMAS T. MUSAH, GENERAL SECRETARY, GNAT
ANGEL CARBONU, PRESIDENT, NAGRAT
KING ALI AWUDU, PRESIDENT, CCT-GH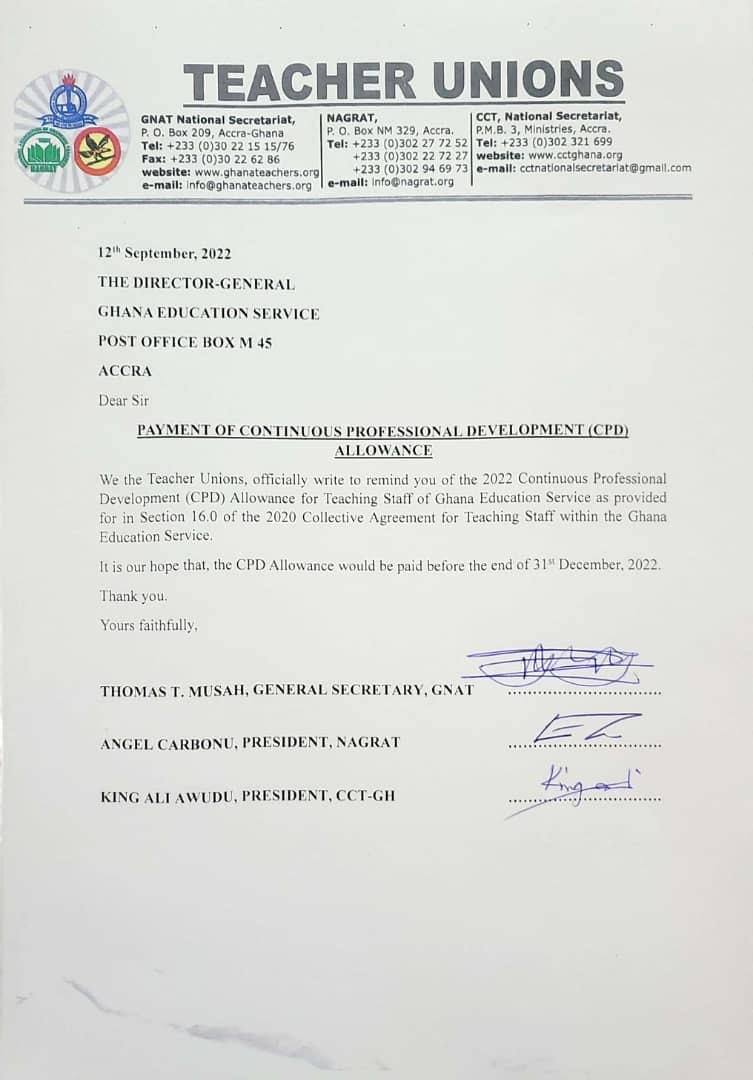 The current state of the Economy with Public servants forcing Government to pay them Cost of living allowance of 15% Confirm Validation; COLA Paid- Check Amount and deductions made (Tax), Some Teachers we believe fear the Professional allowance might not be paid.
Hence went ahead to do some write-ups suggesting deductions to hit the account. Alleged Deductions to Hit 2022 PDA Leaked; Ghc 430 plus
This according to our sources was to force their leaders to come up and tell them if they had any deductions on their minds and if the allowance will even be paid. However, this has been whether fake news or not, yield a results as the service and union come out to speak on the matter.
Now they are almost sure it will be paid and there will be no deductions for Modem or TLMs.
seekersnewsgh
Read also 
Cancellation of cut-off points into SHS and Demotions in Schools – Question to be answered
SHS CURRICULUM REVIEW WORKSHOPS; Student's View Solicited
Summary of the Alleged Controversial New Curriculum for Basic schools to SHS