September 29, 2023 – In a recent development, the National Teaching Council (NTC) of Ghana has officially communicated its intent to implement a series of fees and charges for teachers across the country.
These fees, as stated in a letter dated September 26, 2023, addressed to the Director-General of Ghana Education, Dr. Eric Nksansah, have received full parliamentary approval. This announcement has sparked mixed reactions within the education sector.
The NTC's Letter
The letter from the NTC, signed by Christian Addai-Poku, Ph.D., the Registrar of the Council, states the following fees and charges:
Licence Card: GHC 200.00
Renewal of Licence: GHC 100.00
Registration of Teachers: GHC 50.00
The NTC argues that these fees and charges are authorized by the Fee and Charges (Miscellaneous Provisions) Act of 2022, which grants the Council the power to levy its clientele to support its regulatory functions.
Alleged GH₵300 Deductions in Teachers, Professional Allowance for CPD Points by GES Sparks Social Media Controversy
Teacher Reactions and Concerns
The news of these fees has not been well-received by the teaching community.
Reports suggest that teachers are already expressing their discontent, with some even picketing at the Teacher Unions Headquarters to voice their opposition to the NTC's decision.
Teachers fear that these fees will significantly impact their income and financial well-being.
Earlier information had hinted at the NTC's plan to deduct funds from teachers' professional development allowances for CPD (Continuing Professional Development) Points.
This has only added to the growing frustration among teachers who are already grappling with financial challenges.
Alleged GH₵150 Deductions in Teachers Professional Allowance for CPD Points by GES Sparks Social Media Controversy
Teacher Unions 
In response to this development, prominent Teacher Unions such as the Ghana National Association of Teachers (GNAT), the National Association of Graduate Teachers (NAGRAT), and the Coalition of Concerned Teachers Ghana (CCT-GH) have not issued any statements condemning the imposition of these fees. They have called for Some greivances between the GES, GOV, NTC and teachers to address their concerns and find an amicable solution.
Countdown to Education Showdown: Teacher Unions Demand Resolution
The implementation of new fees and charges by the National Teaching Council has ignited a wave of discontent among Ghanaian teachers, who argue that these financial burdens will adversely affect their livelihoods.
While the NTC cites the legal framework for these fees, teachers and their unions are demanding a reconsideration of this decision.
As the education sector grapples with these challenges, it remains to be seen how the NTC, the Ministry of Education, and the teachers' unions will come together to find a resolution that balances the interests of all parties involved.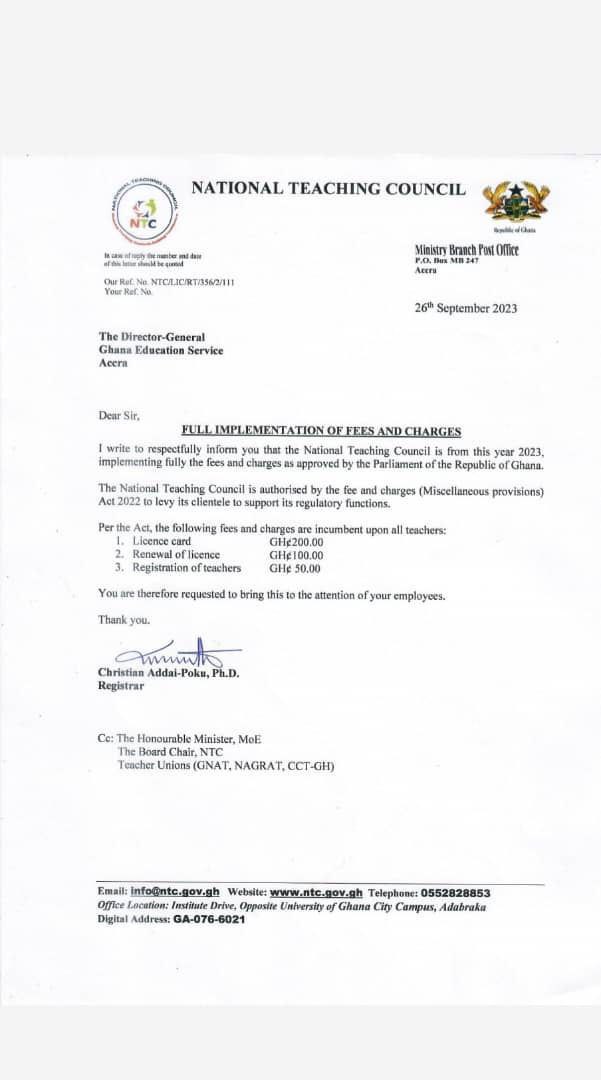 EMIS Teachers Profile Download Link      
NTC Announces New Fees for Ghanaian Teachers: Backlash and Concerns Emerge
---
Disclaimer: This article is based on the information available as of September 29, 2023. Any subsequent developments regarding this matter may not be included in this report.
More Updates Seekersnewsgh